A lot of the work we do at Mercy Health happens outside of the hospital walls.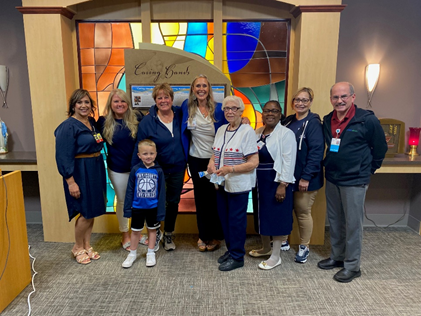 To further our Mission of extending the compassionate ministry of Jesus by improving the health and well-being of our communities, we look for ways to extend the good help we proudly serve inside our hospitals to the areas outside of them that need it most.
In 1994, our Lorain's Parish Nursing Program was founded by the Sisters of Humility of Mary that wanted to connect churches to health care. Our first church was Nativity Church in Lorain, Ohio and it grew from there.
The goal of the Parish Nursing Program is to collaborate with churches, schools and community organizations to best meet the health needs of the community.
"We use data from the Lorain County Community Health Assessment and our own Hospital Community Health Needs Assessment and Community Health Improvement Plan to determine the highest areas of need within our community, and then build programs that address those issues," Kelly Simenson, coordinator for the Lorain Parish Nursing Program, shares. "Further, we aim to combat and prevent chronic disease so that people can live an active and fulfilling life."
She continues, "one of our biggest benefits to the community is helping churches build health ministry teams using the gifts of their congregants. We train parish or congregational nurses and equip them with the physical supplies to hold free health screenings. For many program participants, the basic screenings provided at local houses of worship are their only point of contact with health care."
The work doesn't just stop within the churches, though.
"We work with schools to provide nutrition education, stress management and a lesson on germs and handwashing," Kelly says. "This benefits schools who may not have the time, personnel or resources to deliver this important content to middle- and elementary-aged students."
She adds, "as a grant-funded program, we are able to do so much to benefit the community at no cost to participants. People do not need to have insurance and do not need to be seeing a Mercy Health doctor to take advantage of these preventative screenings."
The impact the Parish Nursing Program is trying to achieve also enlists help from other Lorain organizations.
"I wish the community knew more about our great monthly health fairs. Lorain County has so many incredible nonprofit organizations who collectively gather to offer information and help to residents," Kelly shares.
And Kelly doesn't act alone. There's a large group of team members who have devoted themselves to bettering the health of the community.
"Our team truly embodies and lives our Mission daily, as we often work in communities where there is a great need for improved health," Kelly says. "Often the people coming to our screenings do not have the insurance, means or transportation to get to the hospital, so we take our screenings, resources, nurses and volunteers out into the community to meet people right where they are."
It's challenging work, but the results are worth it.
"Our free labs have helped people discover diabetes, thyroid issues, prostate cancer and other conditions that, if left untreated, would be life-threatening," Kelly explains. "Thankfully in all of these situations, we were able to get the participants to the emergency room, the appropriate doctor, diabetes education or follow-up phone calls to ensure they were treated before things became dire."
Learn more about our mission programs as well as the health care services we provide at Mercy Health.