FC Cincinnati game days can be stressful, especially for a lion. Then you layer in the heat, running around, maybe forgetting to eat and the result is a trip to the first aid room.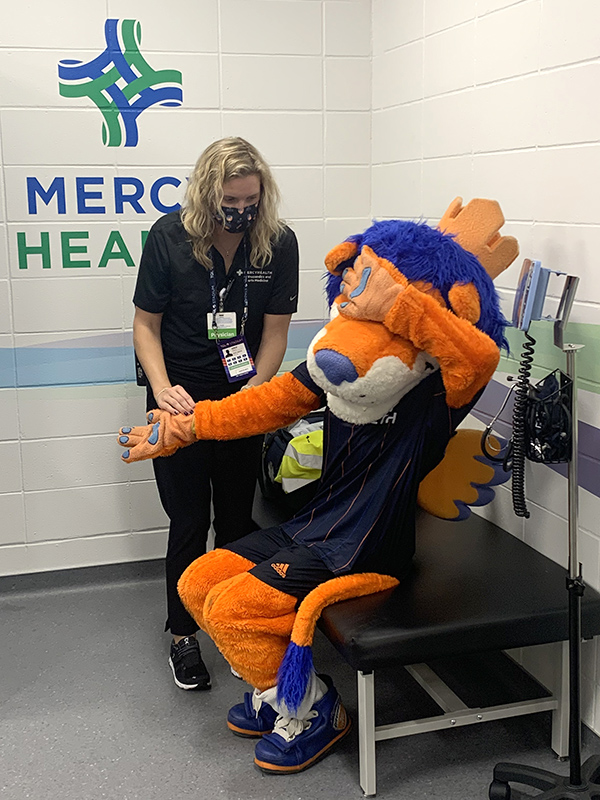 Luckily for Gary, the FC Cincinnati mascot, the team at Mercy Health was available and ready to get him back to his energetic, crowd-enthusing self.
"Gary came in feeling a little dizzy, sweating profusely and complaining of exhaustion … at least that's what we gathered from his roars," Ashlee Barker, MD, a Mercy Health orthopedics and sports medicine provider, comments about having the pleasure of treating Gary on game day.
Dr. Barker, a few of our athletic trainers and some EMS providers all teamed up to treat Gary. His symptoms, including a weakened pulse, pointed to heat exhaustion. Therefore, treatment included fluids and closely monitoring his vitals until he was feeling 100 percent again.
Admittedly, seeing a lion suffer from heat exhaustion seems a little odd given that their native climate is pretty hot. However, the care team in the Mercy Health First Aid Room at TQL Stadium is used to helping our FC Cincinnati fans on game days. Whether it is heat exhaustion, dehydration, choking, fainting or simple requests for bandages, fans can visit the first aid room any time during game day for medical assistance.
While Gary was resting and taking in fluids, we took the opportunity to catch up with him and put a plan in place to hopefully prevent heat exhaustion again.
So, what does a typical game day for Gary look like?
Wake up with the sun
Eat – breakfast is key; he aims for about 2,000 calories
Exercise – get in a good run; his sprint personal record is 51.3 mph!
Eat – snack time consists of about 1,000 calories
Rest – he appreciates a nice cat nap in the sun
Eat – lunch; 3,000 calories this time around
Get Ready – Mercy Health kit, crown and ball
Eat – one more snack
Head to TQL Stadium (and here's where it gets crazy)
Visit with fans on the Mercy Health Plaza
Walk the concourse to greet fans and take photos
Pump up the team for intros
Find Alex and the camera crew for videoboard features (he likes to see himself on the videoboard!)
Roam the sidelines to pump up the crowd and players
While we love Gary's morning routine, moving forward he will need to carve out more time to eat (lions need about 9,000 calories a day) to help him prevent heat exhaustion during game day.
Another tip we shared with Gary – DRINK WATER. While our research informed us that lions technically can go up to four days without water, we encouraged Gary to take advantage of the amenities and resources he has as a domesticated cat.
In all seriousness, our first aid room team has a few tips for FC Cincinnati fans (not lions) to avoid needing care on game days:
Drink plenty of fluids
Be aware of your surroundings (steps, folding seats, etc.)
The Mercy Health First Aid Room is located across from section 133 on the Southwest Concourse for anyone needing medical assistance. And at a minimum, stop by the room the next time you're at a game to extend a quick THANK YOU to our providers and first responders!
Mercy Health is proud to be the official health care provider for FC Cincinnati.
Also, learn more about the sports medicine services we offer.