While these last days of summer provide many opportunities to enjoy the outdoors, sunburns can take away from the fun. And with many kids back on the field to prepare for fall sports, sunburns can still sneak up and cause discomfort.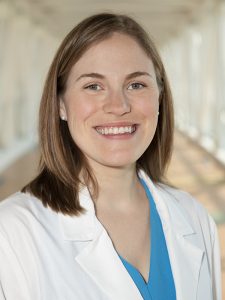 Erin Heuring, MD, one of our dermatology experts in our Toledo market, says there are ways you can prevent sunburns. She also has some tips for relieving irritation that can occur from the sun's rays.
First off, wear sunscreen daily.
Wearing sunscreen each day prevents and protects from any pesky UV rays during times when you are rotating between inside and outside activities.
"Wearing sunscreen each day also has the benefit of skin cancer prevention and is the most effective way to slow the sign of aging," Dr. Heuring shares.
When applying your sunscreen, use SPF 50.
Dr. Heuring recommends SPF 50 sunscreen to provide optimal protection against the sun. While higher SPF is also fine, sometimes very high SPF sunscreens give consumers a false sense of security. Remember, all sunscreen should be paired with other sun protection measures such as hats, sunglasses, protective clothing and seeking the shade.
Throughout your day, apply sunscreen more than once.
Now that you have the proper SPF, sunscreen needs reapplied every one-and-a-half to two hours. This is extremely important to remember if you have been sweating, swimming or towel drying.
If you do get a sunburn, find some relief.
When the familiar pain of a sunburn has set in, Dr. Heuring recommends using cool compresses, staying hydrated, avoiding the sun and getting plenty of rest. However, the best way to heal from a sunburn and protect your skin is to avoid the next one!
And finally, know when to see a doctor for your sunburn.
You should consult a doctor when you have a high fever, nausea, chills, blistering over a large portion of your body, or pain that causes disruptions in your daily activities. Additionally, children are more susceptible to sunburn complications, so you should seek medical attention more quickly for them.
Learn more about the dermatology and skin care services we offer at Mercy Health.