John Tande, 73, has come a long way since he entered Mercy Health – Springfield Regional Medical Center on March 27, one day after his wife Carol, 69. The New Carlisle, OH couple hadn't been feeling well for some time. They would eventually come to find out that they both had COVID-19.
"There were a few days where I was having pain at night. My lower back was hurting, and I had a really bad headache for five days," says Carol.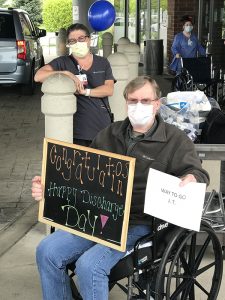 Stranger still was their lack of hunger.
"It seemed we didn't eat for a few days. We'd realize in the evening that we hadn't eaten. We had no sense of taste or smell," she says.
Carol finally decided to have a telehealth visit with her primary care doctor.
"We were both in the bed and barely remember it," she says. "He told me I needed to go to the hospital and that I was very sick."
Carol was admitted to Springfield Regional Medical Center, where she would spend the next 11 days. John went home, but the next day, his oxygen levels fell dangerously low. He was then brought to the hospital by ambulance. It's where he would spend the next 40 days.
"All I remember is walking out with them, leaving the house, going into the red wagon and they are telling me to lie down," John shares. "That's all I remember of the next three to four weeks."
John was on a ventilator for 15 days. He came off the vent and continued his recovery for another 10 days before entering the hospital's acute inpatient rehabilitation unit for 15 days to build his strength.
"He worked hard in rehab and is doing well," says Carol. "He's very determined, that's what got him through."
This is the only time the couple, who've been married for 36 years, have ever spent apart. They were finally reunited when John left the hospital on May 5.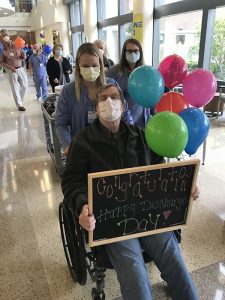 Carol says, "Just being able to sit here and look at him is enough for me."
She credits their care team and prayer for bringing them back together.
"We had wonderful doctors and nurses," says Carol. "I can't say enough about them. They were so good to us. I attribute us even being here to them. It was the doctors, nurses and God. There were so many prayers and yes, I believe in prayer."
Back home at last, John is happy and grateful for his team of caregivers.
"I feel great. It's wonderful to be home," he says before noting that he received quite the send-off from the hospital.
"Coming out the whole length of the hospital, it filled up with people. They had a parade for me," he says before getting emotional. "The doctors said I was very bad and it's a miracle that I made it. The people at Springfield Regional Medical Center are the greatest people in the world. They would do anything in the world for you. They are in my book, together with our family doctor, the best."
Stay updated on what Mercy Health is doing related to COVID-19.