Our knowledge of COVID-19 has come a long way since it was first report at the end of last year. As time goes on, we continue to learn more about this new virus and the symptoms it causes in people. Originally, the Centers for Disease Control and Prevention (CDC) listed the main symptoms of COVID-19 as coughing, fever and shortness of breath. However, the CDC recently revised its list of symptoms and provided a few additional details about them.
Updated list of COVID-19 symptoms
According to the CDC, individuals with one or a combination of the following symptoms may be infected with COVID-19:
Cough
Difficulty breathing or shortness of breath
Or have at least two of the following symptoms:
Muscle pain
Headache
Sore throat
New loss of smell or taste
Fever
Chills
Repeated shaking with chills
Symptoms typically appear in most people two to 14 days after exposure to the virus. These symptoms can range from mild to severe. Children also have similar symptoms, and they are usually on the mild side.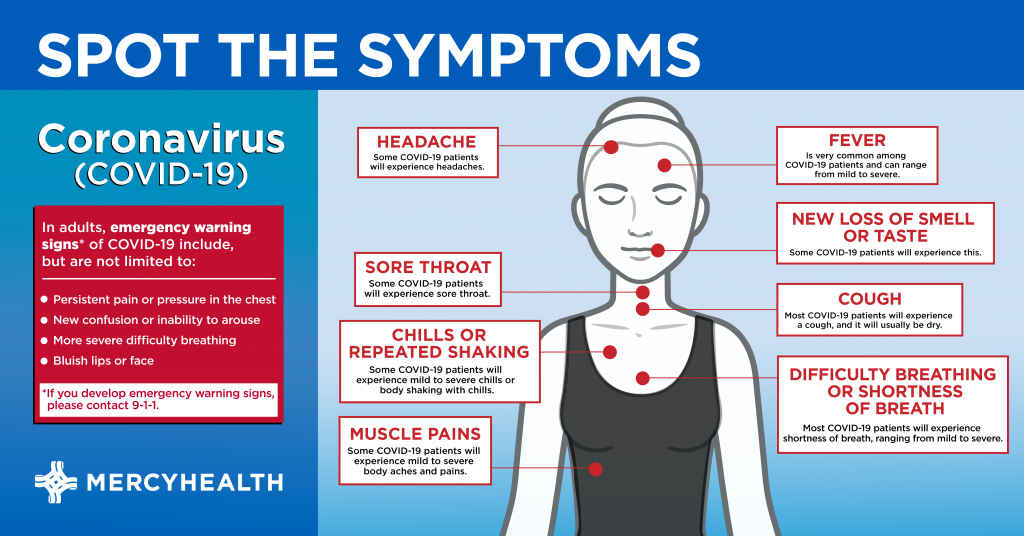 What should I do if I think I might have COVID-19?
Take one of the following steps if you or a family member have been exposed to COVID-19 and are experiencing symptoms of the virus.
Call your primary care provider. Your provider will be able to guide you on next steps and may even schedule you for a virtual appointment. If you do not have a primary care provider, choose one in our online provider directory.
Call our COVID-19 hotline. We have created a 24/7 hotline dedicated to public questions about COVID-19. Call if you are looking for answers to coronavirus-related questions, are showing possible symptoms, or have been exposed to someone diagnosed with a positive case. This line is for non-emergent calls only. The number is 888-700-9011.
Schedule a COVID-19 video visit. We are also offering COVID-19 video visits free of charge to individuals with symptoms and those who may have been exposed to this virus. We have partnered with our sister organization, Bon Secours, to offer our communities access to the Bon Secours 24/7 app. Visit bonsecours247.com or download the Bon Secours 24/7 app for free from the app store. Use the coupon code CARE2020 for your free COVID-19 visit.
If at any time you are having a medical emergency or experiencing severe respiratory distress, call 911 immediately or go to the nearest emergency department.
Stay updated on what Mercy Health is doing related to COVID-19.