At 95 years old, Mary Eckstein still leads an independent life. Living on her own near Fayetteville in Brown County, Ohio, Mary always enjoys the company of nearby family and friends. She is known as Juanita to them.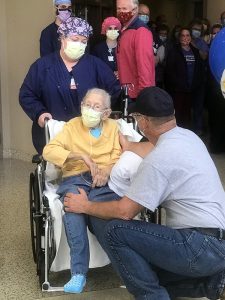 Some recent health setbacks led to a couple of hospitalizations for Mary over the last few months. However, Mary kept bouncing back. Most recently though, she was about to be discharged from an adult rehabilitation facility when things took a turn for the worse.
Mary started getting sick, spiked a high fever and was admitted to Mercy Health – Clermont Hospital for severe pneumonia on April 16. The next day, testing confirmed that Mary had COVID-19.
During her stay, Mary's care team kept her son, Bruce Eckstein, informed about his mother's treatment. After five days on a ventilator, things were looking better and Mary was able to breathe on her own. However, shortly before she was due to be discharged, she once again had trouble breathing. Mary was then placed on a ventilator again.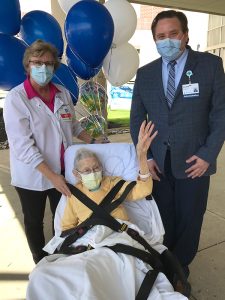 Day by day, Mary kept rallying. When she was able to speak to her son again in late April, she shared she was ready to leave the hospital. And on Monday, May 4, that happened!
The hospital staff celebrated Mary's discharge with a parade that ran from the elevators through the lobby and to the main entrance. It was then she was reunited with her son. He hopes she will be back home soon after completing rehabilitation.
"There's always hope," says Bruce. "Everything I've read, people in her age group with all her medical problems, to pull through, it's a miracle. She's a fighter. A friend said she told her she can't die, her boys need her, and I get emotional but it's true."
Stay updated on what Mercy Health is doing related to COVID-19.