To make sure the upcoming school year goes well, be sure to send your kids back to school in tip-top health. Feeling healthy and strong always helps kids feel happier and more confident.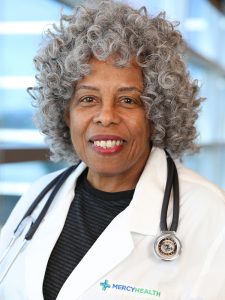 Wondering where to start? Camille Graham, MD, one our physicians and pediatricians, has the following advice for returning to school in the COVID-19 era.
Make sure vaccines are up to date
Vaccines help prevent kids from getting all kinds of diseases like polio, measles and mumps. Parents also have the option of getting additional vaccines for their kids. Your child's health care provider can tell you which vaccines kids should have based on age.
"Vaccination strategy is nothing new," Dr. Graham shares. "It's been around since the Revolutionary War. That's why the Centers for Disease Control and Prevention (CDC) says it's the most effective strategy for disease prevention. It wasn't until effective vaccines came along that we saw a significant drop in diseases. But that only happens if all or most us are vaccinated. If I'm vaccinated but 10 of my neighbors aren't, I won't get the disease, but it will still spread through the community. This is why it's vital that all children are up to date on their vaccines."
Examples include vaccines for:
Chickenpox
Flu
HPV (human papillomavirus)
Meningococcal disease
Have your child's vision checked
Having your child's vision checked is one of the most important health tips for school students. Roughly 5 percent of children can't see clearly, which can affect school performance and self-esteem.
Check to see if your child's school offers annual vision tests. If not, get a vision test for your child through a local health care provider.
Schedule a well-child checkup
Late summer is the perfect time to schedule an annual checkup for your child. In addition to monitoring vaccinations and checking vision, your child's health care provider will:
Discuss any behavioral or emotional problems
Do a physical exam
Look at growth and development
Screen for hearing problems
Track your child's health history
Keep your child's school informed
Parents can help keep their children safe and healthy by keeping schools informed. Check to see that your child's emergency phone numbers are up to date and in the correct order. In addition, make sure the school has phone numbers for your child's doctor and dentist.
Tell the school if your child has any medical condition that may affect activity or if they are on medications. Schools also need to know if kids have any allergies that might cause health problems.
Examples include allergies to:
Bees
Eggs
Latex
Milk
Pollen
Soy
Wheat
Take COVID-19 precautions
With COVID-19 still out there, it's important to continue to take precautions. At home, practice hand washing before meals, and use hand sanitizer regularly. Pack a refillable water bottle in your child's lunch and make sure they wear a mask on the bus and at school.
"If kids wear their mask correctly, it's effective," Dr. Graham shares. "It's important for parents and adults to model mask wearing to set a good example. COVID-19 and the flu are respiratory illnesses and putting up extra barriers like masks help prevent their spread."
Check your child each morning for any signs of illness like cough, sore throat or fever. Kids with a temperature of 100.4 or higher should not go to school.
"Go back to the basics," she adds. "Hand washing, coughing and sneezing into your elbow. Most importantly, if you are sick, do not leave the house."
Nurture your child's creativity
"One way to ease your child's back-to-school nerves is to engage them in picking out their own school supplies," Dr. Graham says.
Let them make their own mask choices and get their help in putting together personal packs of hand sanitizer, tissues, glue and scissors. They will enjoy choosing their own individual pack of school supplies, which will also help cut down on spreading germs in the classroom. Make sure to buy a washable backpack. Also, have your child pack their own utensils, single-serve snacks and a personal water bottle.
"If your kid can't use hand sanitizer because of eczema, see about individual or small soaps. Also, provide them with disinfecting wipes so they can wipe down their own table every day. Younger ones like to do helpful things like this," Dr. Graham shares.
The responsibility for creating a safe school atmosphere this year will be the job of teachers, staff, parents and students. However, the payoff will be great.
"We want kids in school learning. It's good for their social, mental and academic health," Dr. Graham says. "Having kids in a structured learning environment benefits them in many ways. For example, it helps them learn how to control their emotions and express their emotions appropriately. Being in the classroom helps reduce social anxiety, creates a safe positive environment and gives extra support in unpredictable times."
More healthy tips to try
If you're wondering what else you can do to keep your kids healthy and happy, consider these back-to-school health and safety tips:
Buy a rolling backpack if your child has lots of books.
Don't forget to give kids healthy after-school snacks.
Look for back-to-school healthy lunch ideas.
Make sure backpacks have adjustable straps, padding and plenty of pockets.
Start the day with a nutritious breakfast.
Try to make sure kids get at least eight hours of sleep.
As a wise person once said, "an ounce of prevention is worth a pound of cure." To make sure your child has the best school year possible, follow this back-to-school health checklist.
When it's time to schedule an annual checkup for your child, check out the pediatric care services we offer at Mercy Health.