A few years back, Mercy Health – St. Rita's Medical Center restructured its cardiac rehabilitation program to a total mind, body and spirituality approach called the Pritikin program.
Pritikin ICR (Intensive Cardiac Rehabilitation) is one of only three intensive cardiac rehab programs approved by the Centers for Medicare and Medicaid Services (CMS), and St. Rita's was one of the first in the state of Ohio to adopt it.
"Research has shown that patients who participate in intensive cardiac rehab have better health outcomes and decrease their chances of having another cardiac event," Joanna Wessell, RN, a manager who has been with our ministry for 36 years, shares. "It is a lifestyle wellness program that focuses on eating well, exercising regularly and having a healthy mindset."
Within that intensive approach came a blessing for both our patients and team members. The blessing came in the form of the variety of information shared, the positive impact on people's lives and the friendships that happen along the way.
A centerpiece in education
The participants in the St. Rita's cardiac rehab program are defined as those who have had a qualifying heart event, such as a heart attack, coronary artery stent, coronary bypass, heart failure, valve replacement, heart transplant or stable angina.
Patients attend cardiac rehab as an outpatient for 12 weeks, coming back to St. Rita's two to three times a week for a total of 72 sessions. It may sound like a lot, but the results are worth it.
"A traditional cardiac rehab program is not as extensive as far as education is concerned," Yvonne Stanovich, a registered dietician, says. "Typically, patients that have had cardiac events aren't given information about how powerful diet and lifestyle changes can be for them. In our Intensive Cardiac Rehab program, we are teaching participants how to adjust their diet and lifestyle habits to help them significantly lower their risk for future events. Many patients also find that their weight, blood pressure and blood sugar control are better for them as a result of following the guidelines learned during the program. We give them practical, hands-on experience and tools for personal empowerment in their own health journey. We are essentially giving them the keys of freedom to enjoy long-lasting health."
The cardiopulmonary rehabilitation team at St. Rita's is made up of a social worker, a respiratory therapist, a dietitian, five exercise physiologists and a manager. Each team member contributes an important part to the holistic approach the Pritikin Program offers.
Cooking up a storm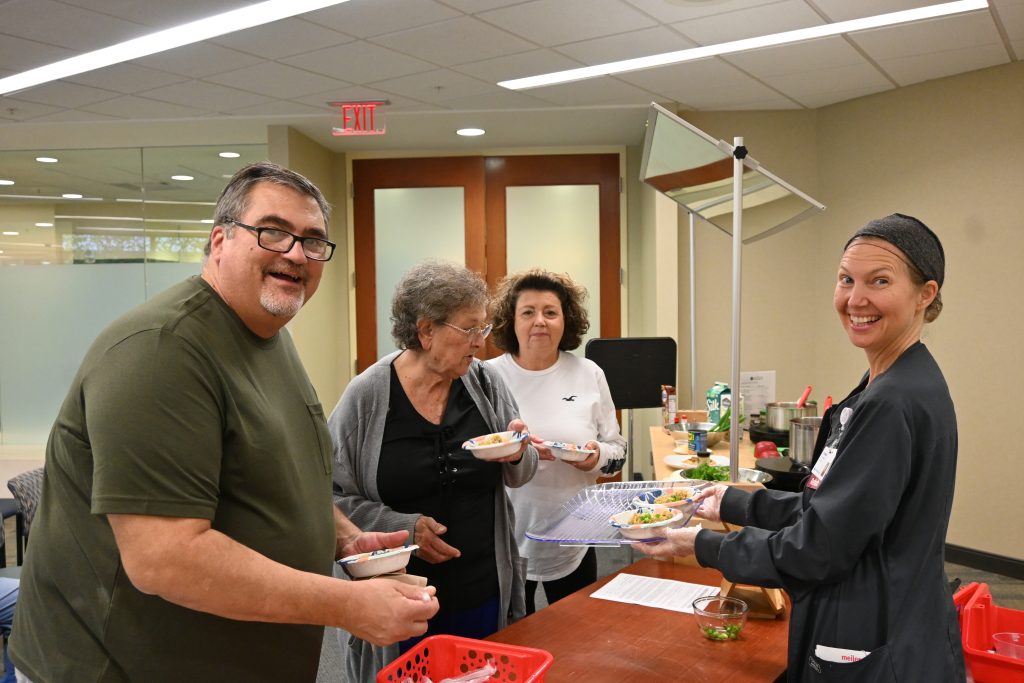 One of the favorite parts of the program are the cooking classes.
"We have about six people per class and spouses can attend; in fact we encourage them to come," Yvonne shares. "We want to work with them and whoever else helps with the grocery shopping and cooking."
The team offers a rotation of 15 cooking school topics, such as adding flavor, fast and healthy breakfasts, tasty appetizers and snacks, delicious desserts, efficiency cooking and more. In class, attendees observe the teacher preparing the selected recipes and then they get to taste them.
"During class, we discuss several potential variations of recipes in order to individualize them to meet the participant's preferences," Yvonne explains. "We talk about how to make old favorites in healthier ways. We have a lot of fun sharing with one another and there is a synergy as we do so."
Yvonne adds that one of the favorite recipes in her classes is banana blueberry ripple ice cream. As a bonus, attendees receive all the heart-healthy Pritikin recipes in their patient handbook.
And then every February for Heart Month, the team moves their cooking class outside the St. Rita's Cafe and shows hospital team members and visitors some of their heart-healthy cooking favorites.
Since these cooking classes began, they have touched hundreds of lives. Several participants have reached out to our team and let them know how they and their loved ones are doing and what impact the program is still having on them! The group is so grateful to have the privilege of seeing their patients succeed.
Getting in the groove
It is a fact: heart patients should exercise five to seven days a week. Most cardiac rehabilitation patients do not exercise at home prior to starting the program at St. Rita's.
That is where Deanna Reynolds-Griffin and the team of exercise physiologists come in.
"We really begin by telling them what exercise is," she says. "It is a common misconception, that after their cardiac procedure they think they have been 'fixed,' and that isn't necessarily true. Heart disease doesn't go away: there is no cure, but they can make lifestyle changes that can lessen their chances of having another event when participating in a program like this."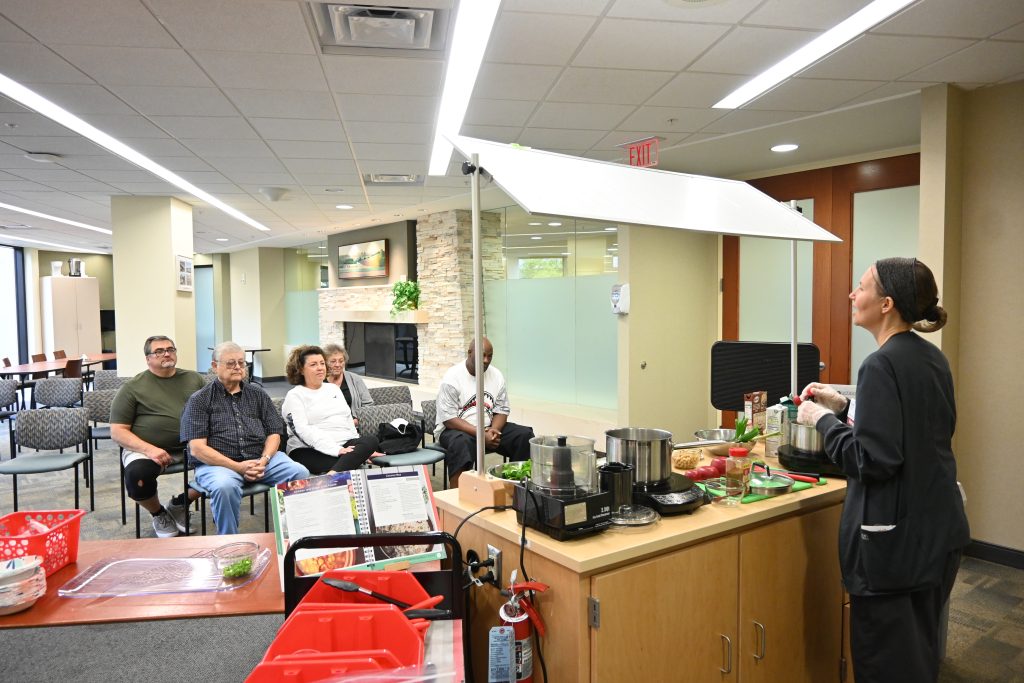 Deanna continues, "during the weeks in rehab, we exercise to strengthen the heart muscle with aerobic activity, treadmills, bikes and NuStep. Our classes increase endurance, strength and flexibility."
The exercise physiologists' goals are to educate the patients and provide a well-rounded exercise program that will help guide them in building their own plan that can last a lifetime.
Everyone is in a different place, and they end up having fun – sometimes they even sing while exercising.
The team in cardiac rehab at St. Rita's has a bond of friendship and partnership that makes the program even more special.
"My reward is when I hear a patient tell others what they have learned and the impact the program has had on their lives, which in turn encourages the newcomers," Yvonne says. "To see them grow to the point they are sharing is so inspiring."
Deanna adds, "my favorite patient is someone who was totally against cardiac rehab and then after participating, acknowledged what a life-changing experience it has been."
Learn more about the heart and vascular care services we provide at Mercy Health.