Learn why the Toledo Glass City Marathon is one of the nation's marquee races for top runners and best ways to get involved with your community. In existence since 1971, the Toledo Glass City Marathon has grown to be in the top 25 fastest marathon courses.
This year's marathon takes place on Sunday, April 25th and kicks off at the University of Toledo's campus with separate start lines for the marathon/marathon relay and half marathon.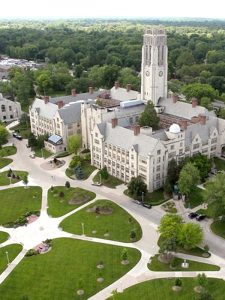 Marathoner or not, the Toledo Glass City Marathon gets you moving.
The weekend isn't just for those that choose to race 26.2 miles. While this year's race looks a little different because of COVID-19, there's fun for everyone!
The marathon weekend of races kicks off with a 5K on Saturday open to runner and walkers. Sunday features the half and full marathons as well as the marathon relay in which you can choose from 1 of 5 distances ranging from 3.4 miles up to the longest leg of 6.6 miles.
Your involvement benefits everyone.
Organizations right here in our community can offer needed services and programs thanks to the money donated through the marathon's nonprofit fundraising efforts. Mercy Health – Children's Hospital is an example of one such charitable recipient who will continue to offer life-saving and life-changing services to our youngest patients thanks to this support.
"We are thrilled with the amount of money raised for Mercy Health — Children's Hospital," says Jeff Dempsey, President, Mercy Health – St. Vincent Medical Center & Children's Hospital. "Every dollar raised goes directly back to the hospital to purchase equipment with the latest technology."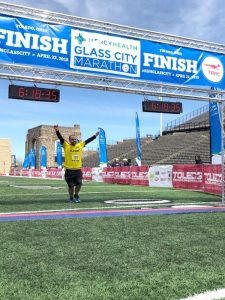 The Mercy Health Glass City Marathon is 44 years strong.
Mercy Health has been the title sponsor of this race since 2016. The race route begins and ends on the University of Toledo's campus – and allows you to see some great neighborhoods and landmarks in Toledo along the way. This spring race is a Road Runner Club of America Championship race and is in the top 25 for Boston Qualifier Marathon destination.
Support to help you race safely.
Our Sports and Orthopedic Team of physicians and running medicine specialist are available to assist you during your training as well as on race weekend.
Access to our Sports Medicine Physicians, typically within 24 hours, allows for quick diagnosis and assistance in returning to your regular training plan as well as referral to a physical therapist that specializes in running if needed. Our running medicine specialists can perform a musculoskeletal evaluation as well as a video running analysis that will assist in changing running mechanics to reduce loads on soft tissue and joints.
Our Mercy Health orthopedics, sports medicine and emergency services teams are also proud to work alongside our community partners to provide medical aid and support for the thousands of runners and spectators along the course. Each aid station, response vehicle, and bicycle team along the course will be staffed with a variety of medical professionals who will work together to ensure the health and safety of all.
Learn more about the Toledo Glass City Marathon.
Learn about the health care services we offer at Mercy Health.