Clinical trials and studies are driving the development of disruptive technologies, novel procedures and less invasive surgeries in orthopedics and sports medicine. But do these advances really benefit the everyday patient?
The team at Mercy Health – Cincinnati Sports Medicine and Orthopedic Center is an elite group of physicians, physical therapists, and clinical research specialists who actively participate in clinical studies. One of our orthopedic surgeons and shoulder and elbow specialist, Samer Hasan, MD, PhD, shares how involvement in various clinical studies provides benefit to the patients that he treats every day.
Physician collaboration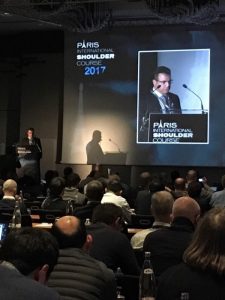 The Mercy Health orthopedics and sports medicine team undertakes various longitudinal studies in order to monitor patient outcomes over time. Determining what treatments, including surgeries, work best requires this type of constant vigilance. Careful study of outcomes helps shape the treatment strategy for the next generation of patients. For example, Dr. Hasan and his team are currently studying the outcomes of shoulder arthritis patients age 85 and older who underwent reverse shoulder replacement surgery. The results of shoulder replacement surgery in a large cohort of patients has never been studied before. Study results demonstrate that older patients did amazingly well following reverse shoulder replacement with excellent pain relief and good function. In addition, none of the patients since 2015 required a blood transfusion and only two out of 61 patients needed any repeat surgery.  The findings of this study can be used to counsel older patients with debilitating shoulder arthritis that reverse shoulder replacement surgery is a reasonable and durable option as long as their medial health can be optimized prior to surgery and as long as the surgery is performed by a high-volume surgeon at a high-volume hospital with processes in place to minimize complications.
Many of Dr. Hasan's clinical research studies focus on his own patients, but some studies are collaborative multicenter studies in data are pooled from other shoulder specialists nationwide.  These types of collaboration help foster relationships that can also benefit some patients. "In certain rare situations with a patient I have the ability to call my friends, who happen to be some of the most experienced shoulder and elbow surgeons in the world," says Dr. Hasan.  "It is nice to have these resources as a result of involvement in collaborative multi-center studies. My patients benefit from my expertise that I have developed from years of subspecialty practice and lifelong learning but also from the expertise of an entire network of specialists throughout the country."
Access to innovative treatment options
Some studies are aimed at studying emerging and novel treatments that may benefit patients who might otherwise not benefit from existing treatment options.  The hope is that these studies will lead to new strategies that will improve the lives of patients who continue to suffer from pain dysfunction because of the lack of good treatment options.
Mercy Health – Cincinnati Sports Medicine and Orthopedic Center was one of 18 centers in the United States that enrolled patients to participate in a study evaluating the effectiveness of a biodegradable subacromial balloon spacer aimed to improve shoulder comfort and mobility in patients with an irreparable rotator cuff tear. The data from this study, which are currently under review by the Food and Drug Administration, has been promising and the hope is that this new device will soon be a minimally invasive option for patients with symptomatic irreparable rotator cuff tears. "It's very encouraging to have a device in our hands that provides a low-risk, minimally invasive treatment option for patients who have a tear that cannot be fixed," Dr. Hasan shares. "I look forward to soon being able to use this device for my patients."
Enhancing care through continuous learning
Orthopedics is constantly evolving. Research and teaching allow the orthopedic surgeons and physical therapists at Mercy Health – Cincinnati Sports Medicine and Orthopedic Center to sharpen their skills and knowledge.
"As a highly-specialized physician who is passionate about caring for the orthopedic needs of my patients, I feel that is my duty to participate in research and training," says Dr. Hasan. "By continuously learning, my colleagues and I are able to safely and correctly apply the latest technologies and techniques. This ultimately allows us to deliver high-quality, optimal care to improve the quality of life for all of our patients."
In addition to clinical studies, the orthopedic surgeons and physical therapists at Mercy Health – Cincinnati Sports Medicine and Orthopedic Center are also committed to training the next generation of orthopedic surgeons.
"All of the surgeons at Mercy Health – Cincinnati Sports Medicine and Orthopedic Center are involved in our sports medicine fellowship," Dr. Hasan reveals. "We are always teaching in the office and in surgery as well as lecturing throughout the world. This is also a great way for us to remain up-to-date on the latest trends and information which helps us provide better care to all of our patients." In addition, Dr. Hasan is one of the co-directors of the Cincinnati Shoulder and Elbow Fellowship, one of only a handful of such accredited fellowships nationwide.
Furthering medical research
For patients who participate in the clinical research, the purpose for joining often extends beyond themselves. Patients have the opportunity to benefit directly from innovative treatment options in the hope that it improves their health. However, many patients participate in clinical trials to further medical research and help improve the lives of others.
"Although participating in clinical research can often be a substantial time commitment, patients are very happy that they are not only improving their quality of life, but improving outcomes for surgeons all over the world and for the patients that follow them," says Dr. Hasan.
Mercy Health – Orthopedics and Sports Medicine is conveniently located throughout Cincinnati. We offer same/day next day appointments as well as extended hours at the Anderson and Fairfield locations.  
Call 513-347-9999 or schedule an appointment online today.