Meet the Head Physicians for the Cincinnati Bengals and FC Cincinnati
When you are watching FC Cincinnati or the Cincinnati Bengals and an orthopedic injury occurs on the field, chances are one of the physicians supporting the players is a member of the Orthopedic and Sports Medicine team at Mercy Health.
Mercy Health – Orthopedics and Sports Medicine is committed to caring for all athletes within the Cincinnati community, from the scholastic athlete participating in their first year of sport to the professional athletes playing for one of our local sports teams.
Comprehensive Treatment for the Cincinnati Bengals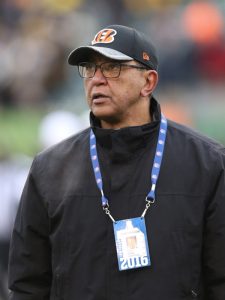 Marc Galloway, MD, serves as the head team physician and medical director for the Cincinnati Bengals.  For the last 11 years, he has been responsible for overseeing the medical care of the players ranging from the evaluation of injury through treatment including surgery, when needed, and rehabilitation. Dr. Galloway is also involved in evaluating and establishing the medical profiles of potential team players, from college athletes to free agents.
As part of the National Football League Physician Society, Dr. Galloway is very active in generating and implementing best practices regarding protocols on medical concerns ranging from concussions, heat illness and even to this season's COVID-19 concerns.
Dr. Galloway works with a large medical team that encompasses a variety of specialties, including internal medicine, emergency and neurology, among others, to provide comprehensive care to the Bengals. Before, after and during the game, they all work together on medical issues that arise.
"I really enjoy the interactions between the players and the teamwork of the training and medical staff," Dr. Galloway shares.  "There is a strong sense of camaraderie and achieving the goal. Helping someone meet their potential is very rewarding."
Professional athletes are incredibly talented but also work very hard to get their bodies in peak condition. When a medical injury occurs, it can have a significant impact on the careers of professional athletes. Working with them involves trust and professionalism.
"My goal is help people achieve their goal and see successful outcomes, so they are able to return to the sport," Dr. Galloway says.  "Over the years, many, many of the players that I have been fortunate enough to treat, both surgically and non-surgically, have been able to get back to the sport they love and that is very satisfying."
Helping people achieve their goal and seeing successful outcomes extends beyond Dr. Galloway's professional athlete patients.
"I tell my patients that their knees are just as important to them as any professional athlete's knees are as important to them," Dr. Galloway says. "I treat everyone the same and with the same level of commitment."
Caring for FC Cincinnati
Matthew Busam, MD is also a physician with Mercy Health – Orthopedics and Sports Medicine and cares for the FC Cincinnati players as the chief medical officer.
Dr. Busam oversees all medical care for the club. This starts with accessing and evaluating the medical and injury history of potential players. It also includes the comprehensive examinations, monitoring and treatment of FC Cincinnati's players.
Working alongside a medical team, including Stephen Feagins, MD, internal medicine physician for Mercy Health, Dr. Busam is also responsible for managing each players' musculoskeletal health.
"Major League Soccer provides a unique opportunity to meet people from all over the world with diverse backgrounds and experiences. It is genuinely enjoyable for me to spend time with people with different backgrounds who share the same goal of health and success for FC Cincinnati," Dr. Busam shares.
In addition to evaluating and treating the players, Dr. Busam collaborates closely with the medical team on sports performance as well as ways to mitigate injury risk.
One of the unique things that occurs on a professional level is the use of performance metrics on the individual players to mitigate risk of overuse injuries or musculoskeletal injuries.
"We can see if their cardiovascular response from training and games starts to change or their speed, recovery or strength starts to change. Then we can let the coaching staff know that this player may need some mitigation, so they don't have a significant injury," Dr. Busam says.
When a player comes back from an injury, the metrics are also used to ensure that the player is able to return and perform at a very high level.
Outside of tracking and performance metrics, the way Dr. Busam takes care of all his patients is very similar.
"There are not different strategies and interventions between a professional and recreational athlete," Dr. Busam shares. "I like to think that we treat all of our patients like VIPs because our VIPs are regular patients."
The responsibility of an orthopedic surgeon is significant to the long-term musculoskeletal health of a patient.  A recommendation on a treatment plan can have a lasting impact for years.
"We bare responsibility for long-term musculoskeletal health of our patients," Dr. Busam says. "I cherish the trust the patients place on me and value that responsibility."
Patient Benefits
Treating professional athletes creates a level of community within the sports medicine profession. For physicians like Dr. Galloway and Dr. Busam who are in the unique position of caring for professional athletes, they are provided the opportunity to treat injuries that one does not often see in day-to-day orthopedics.
Through their experiences and collaboration with other physicians in their leagues, they learn how to further treat, manage and mitigate injury risks for their players. These findings are then applied to all their patients, making for better health care.
Mercy Health – Orthopedics and Sports Medicine is conveniently located throughout Cincinnati and offers same-day next-day appointments as well as extended hours at the Anderson and Fairfield locations.  
Call 513-347-9999 or schedule an appointment online today.