In February 2019, Jeannette Bientz was a few months overdue for her routine mammogram when she finally went to The Jewish Hospital – Mercy Health Women's Center. Jeannette wasn't expecting anything unusual, especially since her fibrocystic disease often causes harmless lumps on her breasts.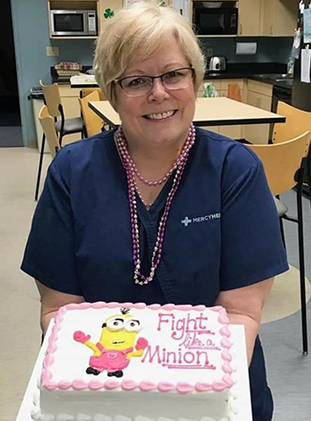 However, during her visit, doctors found "an area of suspicion" in one of her breasts. She received a biopsy that week, and 24 hours later Jeannette was diagnosed with breast cancer.
Jeannette says her mind went "in a million different directions," when she reminisces about the moment that she learned she had cancer.
Three short weeks after her diagnosis, Jeannette began chemotherapy treatments. She finished up in July and was completely receptive to the treatments. In early September, Jeanette underwent a bilateral mastectomy. This surgical procedure removes both breasts to treat or prevent breast cancer.
After four weeks of recovery, Jeannette returned to work as an occupational health nurse in the cardiothoracic department at Mercy Health. She says the support she has received throughout her journey has been incredible. She feels blessed having so many people praying and looking out for her.
"I had the best team and the best support," she says about the "incredible people" at the Women's Center.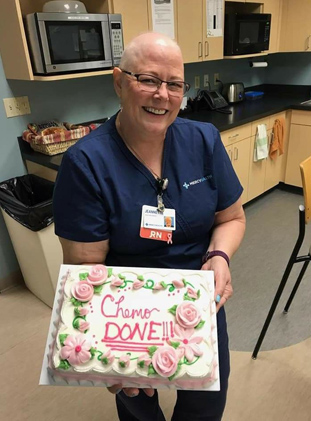 During her time at the Women's Center, Jeanette met Mary Lou Cieslak, a nurse who performed her biopsy. Jeannette says that throughout her treatment, Mary Lou would call her each week to check up on her.
"Mary Lou pointed me in the right direction and everyone followed suit," Jeannette says. "I owe her so much."
Mary Lou also recommended her to Amy Moldrem, M.D., who ended up being Jeannette's primary surgeon.
"They invest themselves in their patients," says Jeannette. "You are not just a number, you are a person to them."
Jeannette advises all women to get their routine mammogram in order to catch any cancer as soon as possible. She also highly recommends the Women's Center to others who are diagnosed with breast cancer.
"I'll stand on the rooftops and shout the Women's Center," she says, laughing.
Since recovering from her treatment, Jeannette's view of life has shifted greatly. She tries to be grateful every morning that she wakes up. She also tries to be kinder to others, especially her own patients.
"Everyone has a story, some are good, and some aren't so good," says Jeannette. "I try to be gentle with people whose stories are not [good]."
Today, Jeannette is thankful that her breast cancer experience was as positive as it could be. She's also thankful for those who helped her and "made the walk more bearable."
Learn how a mammogram helped diagnose preinvasive breast cancer in a patient.