Shannon Muncie, 41, is a medical lab technician with Mercy Health – Marcum and Wallace Hospital. One day in November 2019, Shannon was brushing her hair when the hairbrush got caught in a mole and the mole started to bleed.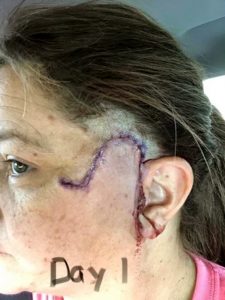 "I had noticed that summer that a mole on the left side of my scalp in my hair had gotten bigger," she says.
Busy with kids who are very active with soccer and marching band, the summer days flew by and Shannon didn't get the mole checked out. But when her hairbrush got caught, she didn't hesitate.
"I made an appointment with the general surgeon who had removed a couple of moles in my scalp."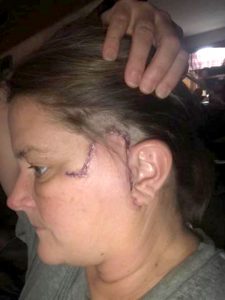 And then came a shock.
"The biopsy came back and it was melanoma," Shannon shares.
There's no history of melanoma in Shannon's family. However, genetic testing showed that she had a mutation in the BRAF gene that can allow melanomas to grow more aggressively.
"I had to go back for oncology surgery, and they took off half my face," she says.
Surgery confirmed that the melanoma had spread to Shannon's lymph nodes, making it stage three melanoma, an advanced form of skin cancer. Following surgery, she started chemotherapy, continued to work and became an advocate for people getting annual skin checks.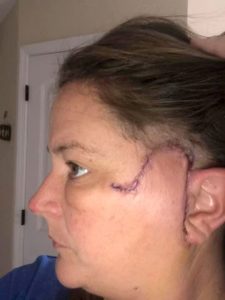 "You see a lot about breast cancer and colon cancer but not skin cancer," says Shannon. "I told people my story and told them not to wait to get checked. If I hadn't gone to the surgeon when I did, I would probably be gone within five years."
Melanoma is the most dangerous form of skin cancer and incidences of melanoma are going up annually. Melanomas can itch or bleed. They appear in different colors and can change over time. It's important that people who have moles that are asymmetric, have an irregular border, change color, grow or change in any way get them checked out.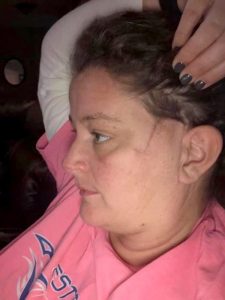 Based on Shannon's experience, her coworkers started getting skin checks and one had a squamous cell carcinoma that doctors removed.
"It's been a great feeling that because I was able to tell my story, I've had people go on to get checked themselves," she says.
Learn more about melanoma as well as the skin cancer treatments we offer at Mercy Health.