Daniel Pilder, 70, of Finneytown, OH was the first patient to be admitted to The Jewish Hospital – Mercy Health with COVID-19. The intensive care unit (ICU) team that provided most of his care was there to celebrate his recovery and discharged him to his family after 48 days in the hospital. This group included his wife Nancy, daughter Erin, son Andrew and his grandchildren.
What started with cold symptoms followed by flu-like symptoms suddenly developed into something much more serious. Daniel was admitted to the hospital on March 15. He was very sick, and his care team was worried if he would make it.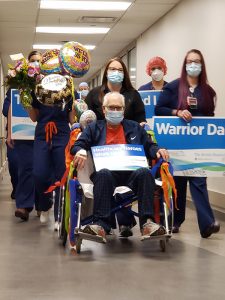 Daniel ended up on the ventilator for 28 days. He also received ECMO (extracorporeal membrane oxygenation), a treatment that uses a pump to circulate blood through an artificial lung to oxygenate it before sending it back into the bloodstream.
"The evening before he was started on ECMO, I didn't think he would live," recalls Dr. Naqvi, vice president of medical affairs at The Jewish Hospital. "That night, critical care specialist Dr. Mudher Al-Shathir spent over an hour and a half in his room manually changing Dan's position to help him oxygenate. Dr. Al-Shathir could have given up at any time, he did not… He stayed in the room for over 90 minutes. Once he was done, the only thing he asked for from me was the location to the call room, as he has young children at home and wanted to check in with his family."
While Dan doesn't remember much of his time in the hospital, his wife of nearly 49 years does.
"It was a roller coaster," says Nancy, who also had COVID-19 but was able to recover at home. "The doctors would keep us up to date and call to find out how we were doing. Some days, they would say he had a good night and others, they would say they were not sure he was going to make it. It is probably the most difficult thing I've ever been through, but we had a great outcome and that's all that counts."
During his stay, Daniel turned 70 years old. Even though he was sedated, nurses wished him a happy birthday at the stroke of midnight. Once he was awake, they celebrated together with his family over video chat.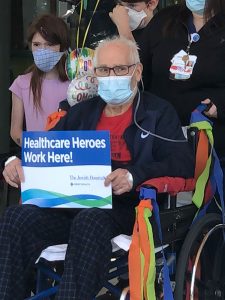 "The nurses were wonderful. I can't say enough about how fantastic they were. They would give us updates and we'd give them messages to give to him. They were like our family there," says Nancy.
The Jewish Hospital's chief nursing officer Vanessa Vonderhaar notes that ICU nurse Jessica Jewell formed a strong bond with Dan, even when he was intubated and under sedation.
"Because of visitor restrictions, his family couldn't be there. Jessica made the time to get to know Dan through regular communication with his family. She learned, for example, that he loved the Rolling Stones and she'd play their music for him during her night shift. He missed his milestone 70th birthday while under sedation. However, with the ICU team, Jessica sang Happy Birthday to him at midnight. Once Dan was alert and oriented, Jessica and the other ICU nurses brought his favorite food and balloons and sang Happy Birthday to mark his special day."
Dan was surprised to find out how long he'd been in the hospital.
"When I woke up, I was disoriented. I felt like I'd been in the hospital a couple days. The nurses let me FaceTime with Nancy and the kids, and the kids said, 'Wow, nice beard.' I looked at myself and had a full beard and thought, 'I guess I'd been here more than a couple of days.'"
The experience has given Dan a new perspective on life.
"I am focusing my attention on the importance of the little things. I have a sharper focus on what's important in life and what should fall into second and third place," says Dan. "I always ranked work and my career too high on the list. That's moving way back. Now, it's family, friends, life in general and doing what you enjoy."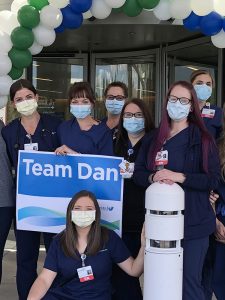 Dan started acting on his new priorities right in the hospital lobby as he was being discharged. It was there that he enjoyed something he'd been missing for some time.
"We had a little ceremony as I was leaving the hospital and my wife came up to me and was able to hug me. I hadn't really touched anybody in 48 days. FaceTime is great but it's not the same," he says.
Getting home also provided memorable experiences.
"It was so strange riding in the car on the way home. I hadn't been outside for two months and it was a beautiful day. I was able to sit on the deck behind the house and chill out, talk to my wife and kids and read a book."
That night, he also enjoyed a bowl of Cincinnati chili and a cheese coney, which is a hot dog topped with chili, mustard, onions and shredded cheddar cheese.
"It was my grandson's idea and I said, 'That sounds good, let's do that,'" says Dan.
The weekend after his return home, Dan's friends staged a drive-by parade to celebrate his recovery.
"The parade was amazing," says Nancy, "Over 100 cars!"
While Dan notes that the emotional outpouring following his return home has been overwhelming, Nancy adds that they've also found an opportunity to laugh.
"Dan lost about 30 pounds in the hospital. He had set himself the goal to lose 20 pounds by his 70th birthday, which he celebrated on the ECMO. We told him, 'That's a heck of way to meet your goal!'"
Stay updated on what Mercy Health is doing related to COVID-19.