When you think of an athletic trainer, you often think of someone on the sidelines available to help at sporting events. You're not wrong, but there's also a new type of athletic trainer: an industrial athletic trainer.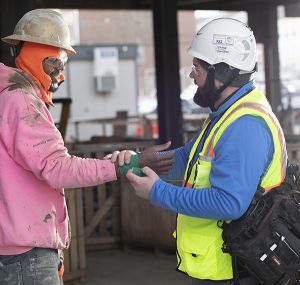 Meet Brandon Sipes. He specializes in helping industrial athletes, or employees whose jobs are physically demanding. Working closely with these individuals, Brandon is able to teach them proactive ways to avoid work injuries while also being available as a first responder to address any job site accidents.
Brandon's role is a first for our ministry and is part of our employee solutions offerings through Harness Health Partners. It was birthed out of necessity, but as luck would have it, Brandon was made for this role.
Brandon began his career as an athletic trainer. While he loved interacting with student athletes, something was missing. Brandon's desire to help others through the injury process was originally sparked by his dad. Brandon grew up on residential construction sites and saw what his dad's body endured due to repetitive motions.
So, when construction began at TQL Stadium, home of FC Cincinnati, and the need for a full-time person dedicated to contractors' health was identified, Brandon was a perfect fit. Brandon was able to combine his knowledge and experience of athletic training with his passion and background of watching his dad on construction sites growing up.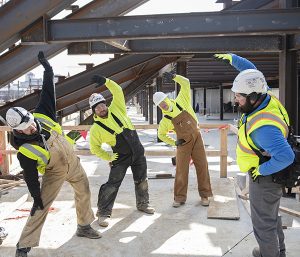 As the Official Health Care provider of FC Cincinnati, Mercy Health cares for more than just the players you see on the field. And Brandon is proof of this.
Brandon loves his role. While he's wired to help people, he loves the interaction he has with a wide variety of individuals with different backgrounds and different job requirements.
On a typical pre-pandemic workday, Brandon would arrive to TQL Stadium around 6:30am to lead the construction crew in a morning stretch. This would help loosen muscles and prepare everyone for the day of physical labor ahead. On Wednesdays, Brandon would provide a quick Wellness Wednesday talk on topics relevant to the crew.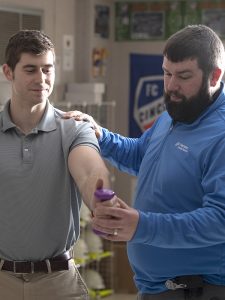 During works shifts, Brandon is available to address any issues that arise: from cuts and band-aids to more serious medical emergencies like heat-related illnesses and cardiac events. As an extension of the construction safety team, Brandon rounds the job site throughout the day looking at specific trades, talking with contractors regarding body mechanics and injuries they may have sustained. He provides helpful tips and recommendations for stretching, strengthening exercises and rehabilitation. He is also available to help with blood pressure checks, glucose testing, wound cleaning or injury follow-up.
"It really is a perfect role," says Brandon, "I'm able to combine my athletic training skills with my passion for helping construction workers like my dad, AND I'm able to achieve a work-life balance to be there for my family."
So, the next time you visit TQL Stadium to cheer on FC Cincinnati, think of the thousands of individuals who worked tirelessly to bring the stadium to life. Also, think of Brandon, who was there through it all to support them.
Learn about all the orthopedic and sports medicine services we offer at Mercy Health.