It was the beginning of February when Candace Weppler noticed that something wasn't right with her husband, Frederick.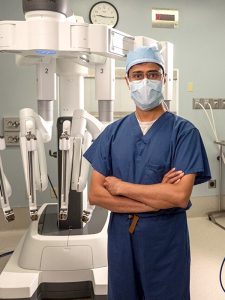 "He was jaundiced, and his urine was the color of pumpkin," she recalls. "Our primary care provider ran some tests and found that Frederick's liver was toxic."
Follow-up imaging and endoscopic procedures confirmed that Frederick had a 1.5 cm tumor in his pancreas. The gastroenterologist who found the tumor referred the couple to Shyam Allamaneni, MD, a physician and surgical oncologist at Mercy Health.
"Our provider said, 'Here's the guy you want to see,'" recalls Candace. The couple first met with Dr. Allamaneni on February 12.
Dr. Allamaneni shared that Frederick needed Whipple surgery, a procedure that treats issues related to the head of the pancreas, including pancreatitis, pre-cancerous lesions and pancreatic cancer.
Whipple surgery is complex and involves removing the head of the pancreas, duodenum, gallbladder as well as parts of the stomach and bile duct. From there, the surgeon reassembles the pancreatic duct, bile duct and stomach to the small bowel.
Frederick would be the first patient in our Cincinnati market to have robotic Whipple surgery. He underwent the procedure March 1 at The Jewish Hospital – Mercy Health.
"With the robot, I no longer need to make one big incision," Dr. Allamaneni says. "Instead, I make a handful of smaller incisions for the robot's arms. The robot has wristed instruments that allow me to work in hard to access areas with precision. The robot also magnifies the small tissues. At the end of the procedure, I make a two-inch incision to remove the specimen."
Whipple surgery can take a long time but Dr. Allamaneni wasn't just concerned with Frederick's well-being during the procedure.
"During Frederick's procedure, Dr. Allamaneni sent a nurse out with some pizza for me," says Candace. "That impressed me."
Smaller incisions have benefits for patients. They lead to a shorter recovery time of three to five days. Patients should also be able to eat and drink in one or two days.
Additionally, smaller incisions mean less risk of surface infection at the incision site and reduced pain following surgery.
"Except for immediately after surgery, Frederick didn't experience much pain and the only thing he's taken is Tylenol," says Candace. "He was chipper the Wednesday after surgery."
Frederick will soon meet with an oncologist to determine the next steps in his care, but he won't soon forget Dr. Allamaneni.
"I think he saved my life," says Frederick. "He's been wonderful, and his staff are unbelievable and very informative."
Learn more about the cancer care and oncology services we offer at Mercy Health.