In 1993, Risa Spieldoch, MD, was completing her residency at the University of Tennessee, Memphis when Steve Feagins, MD, a third-year medical student, joined her on a pediatric rotation. At the end of the month, just as rotations were due to change, she received an unexpected message.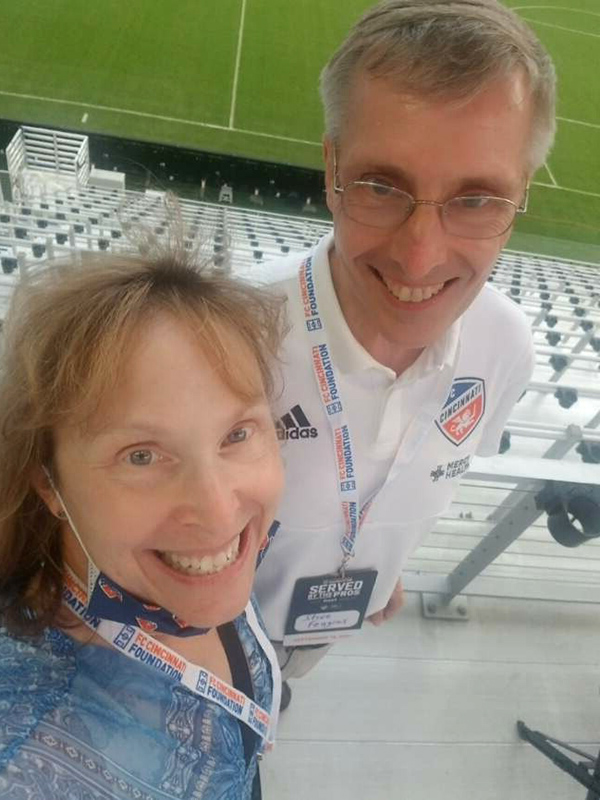 "How strange that the medical student is paging me," she remembers thinking. "I called back and he invited me to a basketball game. I thought that could be interesting."
"Frankly, I was really brave," Steve says. "She's Risa Spieldoch! What a catch. I mean who wouldn't love talking to her? She is so cute. Who wouldn't love her two minutes after meeting her?"
While an ice storm shut down the city and derailed their original plans, they were able to get together a week later.
"Our first date was at Taco Bell," Risa recalls.
Steve, who'd already had a career as a chemical engineer with Procter and Gamble's Charmin brand, told her his famous story about an eye-opening marketing study the firm had done.
"You can classify toilet paper users into two groups – wadders and folders," he shares that he explained. "Wadders use more toilet paper and folders are more economical. However, wadders can become folders in economic downturns."
The way dinner party guests handle their napkins is a tell as to whether they're a wadder or a folder.
"I couldn't get enough of this story. I was intrigued," Risa laughs. And from there, their love story was born.
By the time Steve graduated medical school, Risa had one more year in Memphis to finish her residency. Because of his military service, Steve had a medical scholarship and had to go where he was assigned, which brought him to Wright Patterson Air Force Base in Dayton, OH.
"We saw each other three or four times and got engaged that year," Risa says. "We married in my hometown of St. Louis right after I finished my residency in 1996 and moved into an apartment in Springfield, OH. It was busy two weeks!"
Aside from a few trips to Europe, Central America and South America, Steve's service obligation to the Air Force kept him based in Ohio. When he was released with an honorable discharge, he started his own internal medicine practice in Springfield, OH in the same building where Risa, a family doctor, practiced.
"We'd see each other and have lunch, but he's restless," Risa shares. "A daily practice wasn't challenging enough, and he applied for and accepted his first administrative role with a community hospital, working half the time at the practice and the other half in hospital administration."
This hospital eventually became Mercy Health – Springfield Regional Center. Then in November 2009, Steve got the opportunity to come to Cincinnati, OH as the vice president of medical affairs at Mercy Health – Anderson Hospital, where he would also be able to care for underserved patients for a couple of hours each day at the Mercy Care Clinic.
By this time, Risa was busy working in a practice with three other family doctors and doing inpatient work at area hospitals. The couple made a difficult decision: Steve would move to Cincinnati for this new opportunity and Risa would stay in Springfield.
"We had a crazy, long-distance relationship. It's always been this way. Our entire lives together have revolved around medicine," Risa shares. "We had two young boys at the time and were ensconced in Springfield. I loved my house, neighbors and my practice. We thought that we could manage with Steve having an apartment in Cincinnati and the boys and I staying in Springfield, but it proved challenging."
When their eldest son was ready for middle school in August 2012, the entire family settled in Anderson Township in Cincinnati. With the move, Risa no longer saw patients in the hospital, focusing instead on the outpatient care at Mercy Health – Forest Hills Family Medicine and Mercy Health – West Clermont Family Medicine.
"After spending three years virtually apart, there is something about being in the same city, the same health care system and the same home. It feels good," Risa shares.
As Risa transitioned into outpatient care, Steve accepted the additional role of medical director of Hamilton County Public Health in 2018. Then, Mercy Health – Cincinnati named him chief clinical officer in 2020. Both of these roles took on a special urgency when the COVID-19 pandemic hit.
"To be the one to call some of the first people in the county with this new thing and to explain to the people with the news cameras, I just have the incredible privilege to do incredible things," Steve shares.
Steve also cares for student athletes at Mercy Health's partner high schools and serves on the FC Cincinnati medical team. In fact, FC Cincinnati may have helped him realize the seriousness of what was coming with COVID-19.
"Last year in March, when I was working in my role as a team physician for FC Cincinnati, we were ready to open the season. We had heard of coronavirus and were sitting down to have lunch when the governor told us there would be no games. It was that moment in time when I realized we were shutting down. From that point on, I was on the phone 12 to 14 hours a day."
Steve helped lead the COVID-19 pandemic response for Mercy Health, Greater Cincinnati and Region 6, which comprises southwestern Ohio. COVID-19 also brought changes to Risa's work life.
"It's been challenging," Risa reveals. "In addition to everything we see on a regular basis, we have COVID-19, the sickness you see with it and the persistent issues people have with COVID-19. This includes both physical symptoms as well as heightened anxiety and more mental health visits."
One big change during this time as been the uptick in virtual care.
"The pandemic has brought virtual visits to the forefront," she says. "That's been a learning process. At first, I thought, 'how can I diagnose someone without listening to a lung or looking in an ear?' But I got more comfortable with it. I realized the patient's history will help me make a diagnosis just like they told us in medical school. I feel like I can start virtually and then follow up to perform an examination if needed. It's progress and I'm grateful that I have a good comfort level and feel effective."
Risa has had a front-row seat to Steve serving as a leader during a pandemic, and she could not be prouder of him.
"Steve has a lot of energy and he's a gifted, smart physician able to help the community, athletes and his students. I have regretted at times that he was so awesome and so capable because he was gone a lot, but I am proud of him for sharing his talent."
Risa adds, "I can't help but be selfish at times but when the pandemic happened, I thought this is why he's spent years perfecting his leadership skills and his knowledge of public health. He's come full circle and has been able to lead this community of southwest Ohio through this pandemic. I have nothing but pride. It's incredible."
Steve and Risa are both looking forward to the day when the pandemic is behind us. They hope in the next year or two to take a well-deserved trip overseas that they'd planned but postponed due to COVID-19.
"I actually purchased a travel bag this week," Steve says. "I intend to use it. I don't know what I am going to put in it or where I am going to go, but I have it."
Learn about the health care services we offer at Mercy Health.