During the worst of her battle against COVID-19, Nancy Jayne remembers a feeling of peace.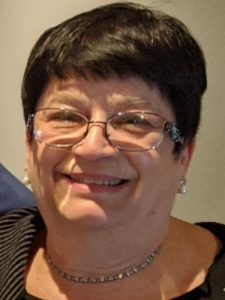 On a ventilator for nearly a week and a half, Nancy says she can't pinpoint the details. However, she can say for certain she was surrounded by overwhelming prayers as well as a caring and compassionate team.
"I just remember the prayers, I can still feel them. It was a very spiritual event," she shares. "This has been one life-changing experience."
A retired nurse who spent 43 years at Mercy Health – St. Joseph Warren Hospital, Nancy is no stranger to severely ill patients. She has seen a lot during her many years and knew that many times patients did not recover.
So, when she decided that she was sick enough to go to the emergency room on March 25, Nancy admits she was scared. She had been at an out-of-town wedding 10 days before and knew that she likely had contracted COVID-19. What she didn't know is that it would be more than a month later when she would finally make it back home.
Nancy says she remembers feeling terrible – weak, feverish, lack of appetite. Although she didn't have a cough or trouble breathing, x-rays showed her lungs were filled with fluid.
The team at St. Joseph Hospital put her on a ventilator to help her breathe. Days later it was removed. However, after Nancy spent a few hours gasping for breath, it was decided she needed to return to the ventilator.
"I thought I was going to die," Nancy says. "I just kept thinking, my kids aren't ready for their mother to be gone yet. I have four darling grandchildren that I would lay down my life for. I kept thinking of them. I never stopped thinking about them."
Nancy continued to get better and was once again removed from the ventilator. Nancy credits both her care team and prayers for her recovery. When she woke up from being intubated, the first thing Nancy asked of her ICU nurse, Jackie Patrick, RN, was whether her family knew where she was.
"She said, 'Oh, I've talked to your daughters, I've talked to your husband. I've taken care of you every single day you've been here,'" Nancy recalls. "She was absolutely wonderful. My family will never forget her."
Nancy says her entire St. Joe's family helped her through her illness. From the doctors and nurses to those who prayed for her recovery – she felt their love all around her. In particular she would like to thank Dr. James Kondolios, Dr. Huong Nguyen, Dr. Weiner, Dr. Amin, Dr. Kapil Kwatra and Dr. David Fredericka, some of whom are her long-time family medicine physicians.
"Jackie Golias, a surgical nurse, came in every day and helped take care of me, and she made me smile. Not much could make me smile at that time so that's an ultimate compliment for a nurse," Nancy says. "Also, Debbie Perrone, a surgical tech, she came in too and she made my smile."
Nancy says smiles during her time battling COVID-19 were so appreciated. That, and the prayers and well wishes of her family, friends and the entire community.
After nearly a month in the hospital, Nancy was discharged to a rehabilitation hospital. Then on April 29, she was able to go home.
Nancy knows that at age 68, she was at a high risk for a different outcome. She thanks God that he wasn't quite ready to see her yet. Instead, she is now able to see her grandchildren. No hugs, just yet, but she was so pleased to be able to see them nonetheless.
"I am 100% Mercy Health. The team, all the caregivers, everybody was wonderful!" Nancy says. "I had a very positive outlook and a positive experience."
Read more stories that celebrate our amazing Mercy Health nurses.
Stay updated on what Mercy Health is doing related to COVID-19.