For many of us, the pandemic brought forth feelings of depression, stress and anxiety. They were caused by fears about our health and the health of our loved ones as well as financial concerns, helping our children with remote learning and much, much more.
In addition to the stress and anxiety that many of us felt, Dr. Svetlana Famina, a psychiatrist with Mercy Health – Lourdes Hospital, is seeing COVID-19 patients with post-traumatic stress disorder symptoms.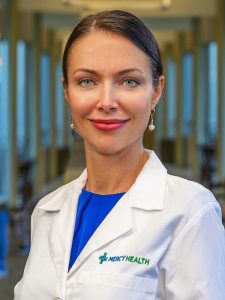 "Their symptoms include nightmares and flashbacks related to their personal experience with COVID-19," says Dr. Famina. "These symptoms are more pronounced in those who were in the intensive care unit (ICU) or who had severe COVID symptoms."
Dr. Kevin Hartman, a primary care provider who practices from Mercy Health – Fairfield Internal Medicine and serves as the chief medical officer for our physician group, notes that "it is remarkable how many patients have at least one post-acute COVID-19 symptom that will drive them to seek primary care. These symptoms include brain fog, depression, fatigue, pain, headaches, increased stress, sleeping problems, mood changes, anxiety and neuropathy, as well as loss of taste and smell."
Dr. Hartman sees these patients in his practice. While many have mild lingering symptoms with which they are coping or that have resolved, he also sees a subset of patients with debilitating symptoms.
"These include fatigue, shortness of breath, loss of smell and mental health concerns stemming not just from COVID but also the social isolation we have all experienced," he says.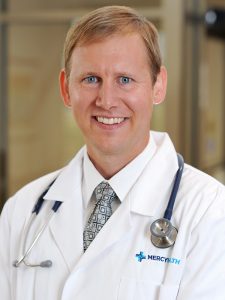 In a presentation he recently gave during a Mercy Health-Ohio State University Healthy Alliance symposium on people with "long haul" COVID-19 symptoms, Dr. Carson Felkel, our system medical director of behavioral health, noted that "COVID-19 is a multi-organ disease state. The brain is affected. This is real and prevalent and debilitating."
A recent study of 230,000 patients found that one in three people who have had COVID-19 will have an ongoing neurological or psychiatric issue. In the past, people have reported similar neurological and mental health issues following other widespread viral infections.
"Brain fog was seen after the 1918 Spanish flu pandemic, as were insomnia, fatigue, suicidal ideation and non-restorative sleep. Asylum hospitalizations went up seven-fold in the six years after the 1918 pandemic, and people who contracted SARS in 2003 reported similar symptoms," Dr. Felkel shares.
He adds, "both those who were and weren't hospitalized with COVID-19 are experiencing headaches, fatigue, depression/anxiety, insomnia and reporting brain fog or cranial nerve issues, which can include difficulty processing words and multitasking. A significant number of people have been unable to return to work after contracting COVID-19."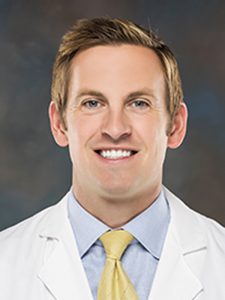 "Those who have been able to stay connected with family, friends and their mental health providers are doing better since they receive constant support," Dr. Famina adds. "It's a different story for those who have lost connections and no longer socialize. That can lead to depression and suicidal ideation."
Luckily, there are resources available for the individuals who need them.
"It's important to ensure these patients have comprehensive care, including specialty care as needed and emotional support for their well-being. Patients can benefit from taking part in emotional support groups given the fear that may surround worry around long-term symptoms," says Dr. Hartman.
Dr. Felkel agrees.
"Support groups seem to help. We also need to individually tailor care for patients by considering neuropsychological testing, medical work ups and blood work as appropriate to plan specific courses of care for them. And I can't stress enough how critical restorative sleep is to helping patients recover from COVID-19. Addressing sleep issues is a priority for these patients."
Getting vaccinated for COVID-19 is the best way you can avoid severe illness and protect those around you. Learn more about our COVID-19 vaccine efforts.