Infant mortality unfortunately remains an epidemic across our country.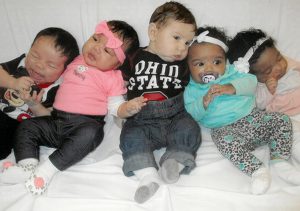 In Youngstown, OH, specifically Mahoning County, community members experience an infant mortality rate of 9.5 per 1,000 births. This rate is the third-highest rate in the state of Ohio and nearly double the national average.
Combatting infant mortality isn't easy, but it's the responsibility of an entire community. To help in this fight, our ministry launched a centering pregnancy program in late 2015, which was funded by the Mercy Health Foundation Mahoning Valley. This program is patient-centric and follows the Centering Health Institute model of group patient care. Experts have found that receiving health care in a group setting leads to greater engagement, learning and promotes better health outcomes.
"Women who participate in our centering program feel more supported during their pregnancy and more prepared for childbirth, as well as the first year of motherhood," April Young-McArthur, centering pregnancy program coordinator, says.
This model of care for centering pregnancy has been shown to:
The financial strain of a baby can be tremendous for new parents, too. However, centering pregnancy has shown it provides an overall health savings cost savings of nearly $8 billion in preterm birth expenses. This is because the cost of preterm birth and related conditions is more than 10 times that of a healthy baby. Additional savings are found in the early detection and treatment of postpartum depression, gestational diabetes and improved birth spacing.
Our ministry also works to help to remove barriers such as transportation and lack of resources that would prevent mothers from receiving adequate prenatal care. This includes providing patients with enablers such as diapers, car seats and Pack 'n Plays. The program also offers doula support and mom support groups.
Most importantly, our centering pregnancy patients are active participants in their care. This mindset allows them to feel empowered, knowledgeable and improves their self-confidence as a parent.
We are proud that our Youngstown program has been meeting its goal of helping expecting mothers deliver at a healthy birth rate while ensuring all aspects of prenatal and postnatal care is provided.
"I don't know what I would do if it wasn't for this program. Every mother needs to do centering pregnancy," Virginia Trimacco, a former patient of the program, shares.
Learn more about the maternity care services we offer at Mercy Health.