Becoming a mother can be a difficult transition. There is so much information to learn and decisions to make.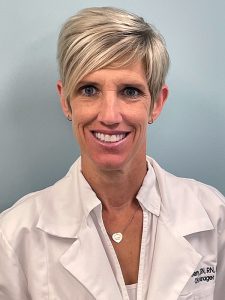 Additionally, breastfeeding can be difficult to establish. Continued success relies a lot on the support around the mother, especially when they are faced with challenges.
Amy Berry, a nurse and lactation consultant for Mercy Health in Lorain, OH, understands what mothers may struggle with those first few weeks of breastfeeding.
"It takes persistence as well as patience in the early days and weeks of breastfeeding. And we have outpatient services available to make those early weeks better," Amy says.
How to support a breastfeeding mother
Here are some tips on supporting a breastfeeding mother:
If you or your partner are planning to breastfeed, find a breastfeeding class, or identify a lactation consultant in your area for support and guidance. This will help you or your partner feel supported and to be better prepared for your breastfeeding journey ahead.
Help during the late-night feedings! Be a part of the process by changing your babies' diaper, sitting with your partner, burping and rocking the baby so your partner can rest between feedings.
Offer encouragement. Breastfeeding can be challenging at first! Offer encouraging words to your partner to give them the extra boost of confidence they might need.
Limit the number of visitors. New moms need to time to rest and to adapt to being a new mother and her breastfeeding journey.
Put in extra work! Help your partner with errands, cooking, laundry and cleaning so she can focus on breastfeeding.
If there's not someone at home who can support you during your breastfeeding journey, or if you're going back to a workplace where your only option for pumping is in a bathroom, your chances of sticking with it drop.
However, programs such as the Special Supplemental Nutrition Program for Women, Infants and Children (WIC) are available. This one in particular provides support for breastfeeding moms in low-income circumstances by pairing moms with peer counselors.
And if breastfeeding becomes too much for a mother both physically and mentally, there are alternative feeding methods available, such as formula.
In conclusion, for moms, breastfeeding support is about meeting them where they are and helping them feed their babies in a way that makes the most sense for them.
Learn more about the lactation services and breastfeeding education we offer at Mercy Health.