When you're expecting a baby and find out that you'll need to have a C-section, the time leading up to delivery can be a little nerve-racking.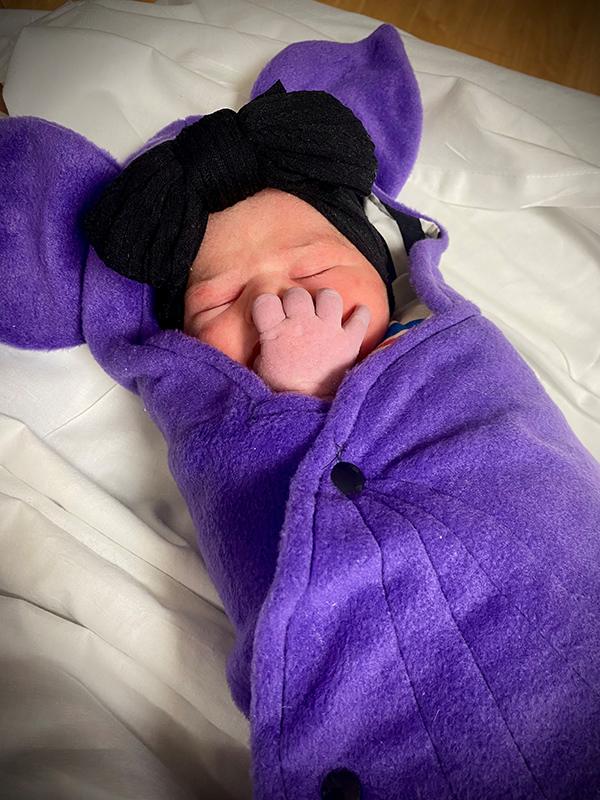 However, Violet Golembiewski shares that bringing her daughter, Juniper, into the world turned out to be a beautiful birthing experience.
"The team at Mercy Health – Lorain Hospital was truly amazing! I felt so much passion and love from the nurses there," Violet says. "Going in for a C-section was terrifying, but the nurses were so kind and helped relieve the anxiety I had before the procedure. They were so encouraging, and you can tell these ladies and gentlemen are there because they want to be. This isn't just a job to them. You can see in the way they treat their patients that this is a passion for them."
During her childbirth experience and hospital stay, there were several nurses who stood out to Violet.
"Rachel helped during my surgery prep and she was amazing! She was so sweet and funny. I was so nervous, and she helped ease so much of my anxiety. She was on top of everything and was just overall wonderful!
Danielle came in after Rachel. She stayed with me through the last bit of my surgery prep, through the whole surgery and then during my recovery. She reminded me of a big sister. She was so understanding of my crying from being nervous. It truly was like having a protective big sister watching over me. She has such a warm and caring energy!
Chris was awesome as well! She took time to not only connect with me as a patient but also as a person. She was so easy to talk with and she did amazing when it came to pain management. She was so sweet and was always very quick to help me during my recovery. She was phenomenal!
And when it comes to Liz, there's so much to say. When Liz started as my nurse, I was getting overwhelmed. I was trying to breastfeed and, unfortunately, I wasn't producing milk like I had hoped. The lactation specialists were absolutely amazing, but sadly my body just wasn't starting to produce as quickly as I had hoped. I was starting to feel defeated and was about to give up. Liz encouraged me and made me feel empowered. I didn't give up and kept pushing through. Because of Liz, now that we are home, I'm successfully breastfeeding. I'm so thankful for her support and kindness when I was struggling."
Overall, Violet would like her entire care team to know about the amazing impact they had on her daughter's delivery.
"They all helped make what was an originally terrifying situation turn into one of the most beautiful moments of my life," she shares. "When I had my son almost eight years ago, it was very traumatic and that played a role in my fear. My care team not only made this experience beautiful but also helped me heal from how scary my first delivery was. I wish I could give each one of them the biggest hug and thank them for being such wonderful medical professionals. I am so thankful for all of them and for helping make this such a beautiful experience.
Violet would also like to thank James Matheson, DO.
"Dr. Matheson knew I was very nervous and did his best to help ease my concerns," she says. "I wasn't sure what to expect but the way he performs the surgery is absolutely brilliant! Once they had me ready for surgery, I didn't even know they had started. I was just laying there for a couple of minutes waiting for some kind of heads-up that it was starting. The next thing I hear is suctioning and them telling my daughter 'happy birthday!' It was all so quick that I didn't even have a chance to get scared. It was mind-blowing how quickly he worked. I thought it would have taken so much longer but he was all wrapped up in 20 minutes or less! Dr. Matheson is truly talented."
We are so thankful for our team members at Lorain Hospital who made Violet's birthing experience such a beautiful one. Learn more about the maternity care services we offer at Mercy Health.