Having a support system is important for any new parent, and there's no exception when it comes to your breastfeeding journey.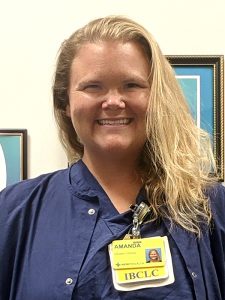 Amanda Larimore, IBCLC, is one of our team members who supports and educates new parents at Mercy Health – West Hospital.
Amanda was fortunate enough to have support during her breastfeeding journey with each of her own children. It inspired her to become a lactation consultant to help other families meet their infant feeding goals.
"Watching a new family gain confidence in their ability to feed their baby is the most exciting part of my job," she shares.
Here are Amanda's three tips for new breastfeeding parents:
In the early days and weeks, the combination of skin-to-skin contact, hand expression and frequent breastfeeding attempts usually works well to help establish a good milk supply and to get breastfeeding off to a good start.
Find your support system. Breastfeeding is hard work. Make sure you have the right people in your corner to help you. There are many free community resources available to help you meet your goals.
Set small goals, and never quit on a bad day!
Because there is so much to consider and each mother's breastfeeding journey is unique, Amanda is just one of the lactation consultants available to consult with each family during their stay in labor and delivery.
Christi Sweigart, a new mom who delivered her first child at West Hospital in May shares, "the day our son was born, we were visited by Amanda and her help in those early moments made me much more confident. Before we were discharged, Amanda gave me her contact information and let me know that I could reach out anytime with questions. I took her up on that offer and emailed her a week or so after I left the hospital. I love knowing that as my breastfeeding journey continues, Amanda is there to connect with if needed."
West Hospital offers free lactation support all parents delivering at the hospital.
Learn more about the lactation services and breastfeeding education we offer at Mercy Health.