Our orthopedic experts in Cincinnati treat professional athletes, from FC Cincinnati and the Cincinnati Bengals, as well as student athletes from across the region.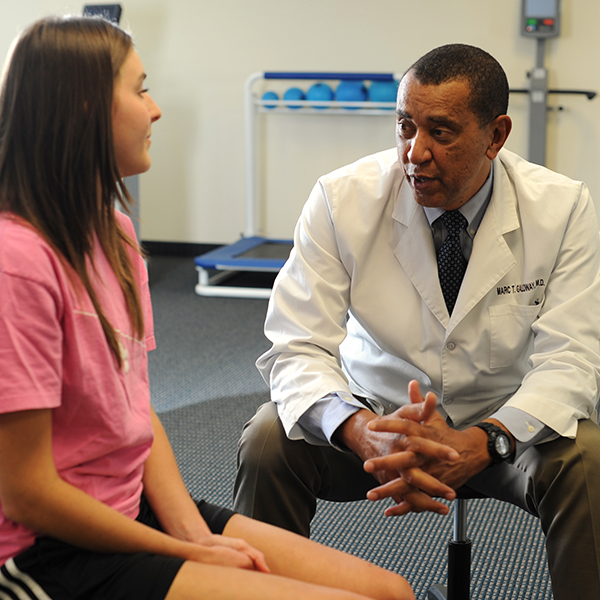 So, when an injury kept Claire Vonderhaar from competing, she went to our team of trusted professionals for help!
For eight years the Milford, Ohio native has been a competitive gymnast at Queen City Gymnastics. Claire is currently an Xcel Platinum-level competitor, which means on a scale of average Joe to Simone Biles … she's closer to Simone Biles.
"About two years ago, I had a high-grade ACL sprain after a rough landing on the balance beam," Claire recalls.
She first took a few months off to heal and then returned to gymnastics, but rest time wasn't enough.
"I was sprinting at practice when I felt a pop in my knee and fell."
Fortunately, the trainer for Queen City Gymnastics was Al Ducker, one of our athletic training managers.
"Al examined my injuries, referred me to Dr. Galloway and made sure I was seen quickly."
Marc Galloway, MD, (pictured in copy with Claire) specializes in orthopedic surgery as well as sports medicine, and has been the head team physician and medical director for the Cincinnati Bengals for the last 12 years.
After an MRI, Dr. Galloway determined that Claire had a full ACL tear and partial medial meniscus tear.
"If she wanted to return to gymnastics or any level of competitive physical activity, surgery was absolutely necessary," Dr. Galloway explains.
Claire had an ACL reconstruction with a meniscus repair. This surgery is typically done for athletes involved in sports that include cutting, twisting, jumping and turning activities. Without surgery, the knee is unstable and is subject to recurrent giving-way episodes that lead to permanent damage. The meniscus repair attempts to preserve the meniscus, which is critical for the prevention of future arthritis.
Following surgery, Claire did physical therapy to maintain strength for her return to gymnastics. The therapy helped make post-operative recovery smother.
Part of her recovery process was our GAP (goals, achievement and performance) program. Our team created this customized program designed to get Claire ready for gymnastics again.
"The GAP program is an amazing addition to the rehabilitation team," she shares. "It is sport-specific, so it helps to not only retrain your muscles for return to sport, but your confidence."
Claire adds that the confidence boost was key to overcoming the mental side of going back to competing.
Now that she's back to competing, Claire wants everyone to know how wonderful and awesome all of her care team members have been over the last two years.
"They are so caring, knowledgeable and have done an amazing job getting me healthy again. We always felt welcome, starting with Leah at the front desk. Both the office staff and therapists have been accessible and always patiently answered any questions we have. We love all the people at Mercy Health, including athletic trainer, Al Ducker, as well as Dr. Galloway, his fellow Dr. Madi, Laura Garcia as well as the rest of his orthopedic team. The nurses at The Jewish Hospital – Mercy Health were great, especially post-op nurse Brittany, who sent me a personal note after my surgery."
This holiday season, we are celebrating by spreading the good news! Read more thankful stories, like this one, that feature our team members, patients and the wonderful communities we are blessed to serve.
Also, Mercy Health – Orthopedics and Sports Medicine is conveniently located throughout Cincinnati and offers same-day next-day appointments as well as extended hours at the Anderson and Fairfield locations.
Call 513-347-9999 or schedule an appointment online today.