Did you know ACL injuries in women are more common than they are in men? Learn more and hear how Kristie Bayer and her daughter, Lauren, went through physical therapy together.
For most parents of student-athletes, there's a wave of emotions that comes with watching your kids participate in sports. There's joy seeing them do something they love and pride knowing they are working hard to achieve a goal. However, there is also the fear of injury.
That emotional wave is one Kristie Bayer is all too familiar with. An athlete herself, she is now a parent who enjoys watching her kids play soccer, softball, baseball, and basketball. In fact, Kristie had previously undergone four surgeries on her left knee before watching her then 14-year-old daughter, Lauren, suffer a torn ACL during her first JV soccer scrimmage.
"I was devastated to see her go down," Kristie comments. "She worked so hard to make the JV team and was in great shape. Having been through ACL reconstruction surgery myself, I knew the journey she had ahead of her was not going to be easy."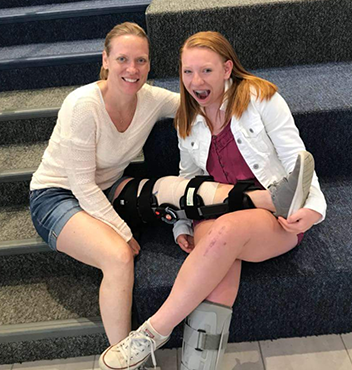 In September 2017, Dr. Amelia Wiggins performed Lauren's surgery at Mercy Health – Wellington Orthopedic & Sports Medicine. Three days after surgery, Lauren began rehab. In addition to physical therapy twice a week, Lauren worked with the Mercy Health athletic trainers at her school, West Clermont High School.
Then in January 2018, as Lauren was rehabbing her knee, Kristie slipped on ice and suffered yet another left knee injury. She was diagnosed with torn ACL, and this time she knew just who to call.
While these injuries were certainly unfortunate, they did provide a unique opportunity in that Dr. Wiggins also ended up operating on Kristie.
The mother daughter duo even went through a bit of rehab together. Kristie and Lauren enjoyed bonding over their favorite strengthening exercise, synchronized monster walks.
Research suggests there is a familial disposition for ACL injuries. A large study showed 12 percent of athletes who suffered an ACL tear also had a family member who has torn an ACL. Additionally, ACL injuries are very common in women, two to eight times more likely than males.
"Females have wider hips and increased valgus angle at the knee which can put stress on the ACL," says Dr. Wiggins. "We also tend to rely on our front quadricep muscle when jumping, landing, and pivoting instead of our hamstrings. This means we land stiff legged with our knees knocking together, and it puts us at risk for ACL injury."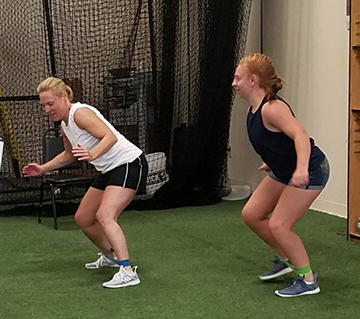 The differences between male and female athletes led Dr. Wiggins to create the Orthopedics & Sports Medicine Women's Center. Located in the Cincinnati area, the center is designed to meet the comprehensive health and wellness needs of active women of all ages and skill levels. As a former collegiate athlete who battled injuries herself, Dr. Wiggins has worked hard to develop a network of expert providers to care specifically for female athletes.
"Of course, we can't change the genetic traits that are passed down from our parents, but there is a lot female athletes can do to help prevent an ACL injury," says Dr. Wiggins.
Both Lauren and Kristie took advantage of the resources at the Orthopedics & Sports Medicine Women's Center before and after their surgeries. Now, they are stronger than ever and continue to live active lifestyles. Kristie is thrilled doing the things she loves without worrying about her knee giving out, and Lauren is thriving as she focuses on softball for her junior and senior year.
Learn more about the Orthopedic and Sports Medicine services offered at Mercy Health.