Doreen Ghioldi is not only one of our high-risk maternal-fetal medicine nurses, she is also a wife, mother and grandmother. Last August, Doreen was excited to go on her summer beach vacation and preparing for her retirement in October. With so many celebratory milestones on the horizon, the last thing Doreen expected was what was coming next as well as the powerful relationships that would help get her through.
When Doreen returned home from her beach vacation, she wasn't feeling well and thought she might have sun poisoning. When her symptoms didn't improve, she went to the emergency room at Mercy Health – St. Elizabeth Boardman Hospital. She was then transferred to Mercy Health – St. Elizabeth Youngstown Hospital when she lost her ability to walk.
"That's when they started looking into infectious diseases," Doreen shares. "They started to do a lot of testing to try to figure out what was wrong – a CT scan, an MRI and tests for infectious disease and neurological issues. They decided they needed to do a spinal tap because everything came back negative."
She continues, "after six to seven days, it came back that I had West Nile virus. The treatment for that is just rehab, so I was moved to the acute rehab facility at the hospital. I wanted to stay at Mercy Health to be where I was more comfortable and to be closer to home with my husband, kids and their families."
Doreen experienced many symptoms including fevers, chills and bad headaches. Then eventually she lost her ability to walk, move her arms and be mobile – symptoms that stayed with her even after the fever, chills and headaches had long disappeared.
Our acute rehab team immediately began helping Doreen, as she couldn't even sit up on the side of her bed without assistance. Adam Shrodek, Doreen's physical therapist, and Michelle Norfus, Doreen's occupational therapist, were integral to her recovery and progress. Not only did they help her regain strength, mobility and the ability to do the things many take for granted, they gave her the encouragement she needed to push through when she thought she couldn't any longer.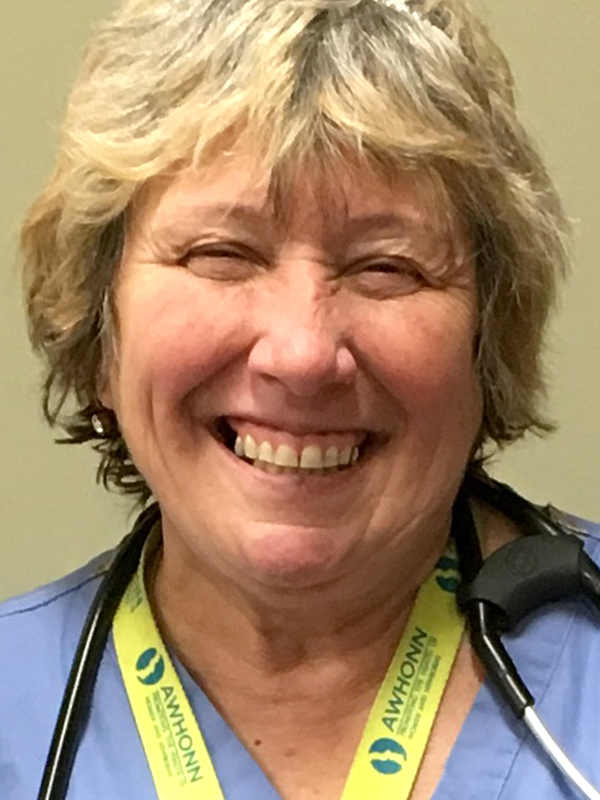 Adam and Michelle weren't the only ones helping Doreen through. From our nurses and doctors to environmental and dietary services team members, everyone Doreen encountered during her stay gave her the support she needed. Her co-workers even made sure to visit and celebrate her.
"As a nurse, it was humiliating and scary. It was a dark time at first. I couldn't see how I was ever going to get better, but they would not let me have that mindset. They said I would get better and that I would make progress. They would say 'look at all the progress you're making, look how well you're doing,'" Doreen shares.
She adds that "everyone was inspiring and encouraging – the nursing staff, doctors and my therapists were top notch and the social workers were absolutely wonderful. I couldn't even make phone calls and they helped me take care of everything. I was in the hospital on my birthday and hadn't been outside since I entered the hospital. Adam put on his coat and took me outside for the first time for my physical therapy that day. The team also decorated my room for my birthday. It was the little things they did to make my long stay more personal and show they cared about more than just the medicine."
Doreen went to the hospital on Aug. 18, 2021 and was able to go home on Oct. 30, 2021. Her team also helped her family prepare for her return home by teaching them things they could do to help her move around the house. Doreen has made tremendous progress and can now do many things on her own. She feels more independent and continues to improve every day.
Doreen credits her care team for her progress and is immensely grateful for all they did to help her. Doreen's family and friends were also a tremendous support to her during this journey. Her loved ones brought food and gift cards, offered a helping hand and visited Doreen often once she was home to help cheer her up and keep her spirits bright. Doreen's incredible support system picked up where her caregivers left off, showering her with love and encouragement to help her continue to improve at home.
"How do you thank people for giving you your life back?" Doreen wonders. "I can never thank them enough. They will always and forever have a special place in my heart for getting me through the darkest time of my life. When I wanted to quit and was ready to be in a nursing home, they wouldn't let me. I want them to know that they need to keep doing what they're doing because they're helping change lives. I hope someday I can go back to the rehab facility and help someone who's facing a challenging situation as a person who went through something similar. I want to be their cheerleader and show them what they can do too. I think maybe that's God's purpose for this." Learn more about the health care services we offer at Mercy Health.