Today on Veterans Day, we are honoring the many employees and patients who have served or continue to serve in our armed forces with a series of special activities and events.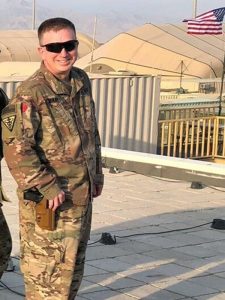 At The Jewish Hospital – Mercy Health, the Veterans Day program culminated with Imaging Manager Robert Bennett commemorating the hospital with a citation and a flag from Afghanistan, where he served his latest Middle East tour from 2019 to 2020.
The citation and the flag come from the Army's 3rd Medical Command Deployment Support (FORWARD) to thank The Jewish Hospital for supporting Robb's military leave from the Imaging Department where he has worked for four years.
"The Army honors and expresses gratitude to families, organizations and businesses that go above and beyond to support deployment," says Robb. "We fly the colors in honor or memory of those who support us on the home front."
Robb served as the unit's Forward Command Sergeant Major since April 2019. The Forest Park, GA based 3D MEDCOM serves as the Theater Enabling Command-Medical, geographically dispersed throughout countries within the U.S. Central Command area of operations. They supported several operations – providing Mission Command, force health protection, and delivering health care to Department of Defense personnel and coalition forces in the region.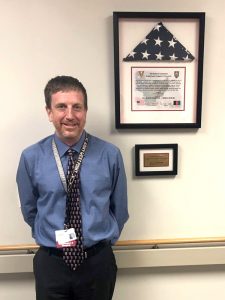 Commander Colonel Rick Bailey's describes the mission as follows: "We are here to fulfill the promise given to every Soldier, Sailor, Marine, or Airman that if they deploy in the service of our great nation and become injured or ill, they deserve and will receive world class medical care."
A native of Vermilion, OH, Command Sergeant Major Robb Bennett entered the active Army in March 1990. In 1999, after nearly 10 years of active duty, he joined the Army Reserves. As a Combat Medic, he pursued training as a Radiology Specialist, Nuclear Medicine Technologist at the Naval School of Health Science in Bethesda, MD.
Robb's 30 years of military service have taken him all over the United States, Puerto Rico and the world, including Afghanistan, Qatar, Saudi Arabia, Iraq, Kuwait, Egypt, and Korea. He has earned several awards and decorations including the Legion of Merit, Bronze Star Medal, Humanitarian Service Medal, NATO Resolute Support Medal and the Combat Action Badge.
At Mercy Health, we are proud to support our country's military in many ways, including through military leaves of absence for any team member serving in the nation's Armed Forces.
Learn more about the health care services we offer at Mercy Health and find a provider near you.