During the week of Veterans Day, we'd like to take a moment to honor some Mercy Health associates who have served in the military.
We are so proud of our veteran associates, like David Decker and Trena Stocker, who exemplify our mission in the work they do every day. Dedication to service is what drives Mercy Health's focus on the health and well-being of our communities, bringing good help to those in need.
David Decker
David Decker remembers the night he decided to enlist in the U.S. Army as if it were yesterday.
It was in 1969 while attending the graduation of his twin brother, Doug, from basic training at Ft. Campbell, Ky. After the ceremony, the young soldiers were able to see their families one last time before heading to Ft. Polk, La., for advanced infantry training. The soldiers were all gathered together, singing patriotic songs as well as songs of hearth and home.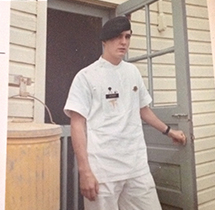 "It was there that I felt the love between those men, and it reminded me of the love Doug and I had for each other," says David. "It was at that very moment that I made my decision to follow him, a decision that was to change my life for eternity."
In the summer of 1970, he volunteered for Vietnam. However, Doug wouldn't let David take his place.
David still ended up serving in Vietnam, becoming a medical jack of all trades. He was first trained as a laboratory technician. From there, he was recruited into the U.S. Army Special Forces (Green Berets) as a medic. He learned about infectious disease with special emphasis on the tropical diseases found in Vietnam.
Next, David was trained in surgery. He helped with amputation procedures as well as secondary surgical closures of wounds. He also worked in the morgue, emergency room and in dentistry. Finally, he learned about pharmacology, which sparked an interest in him that would last a lifetime.
"I use my knowledge gained in the service every single day," says David.
While both David and Doug came home from Vietnam, Doug began to struggle with his war experience. He began to cope with drugs, became addicted and eventually passed away. David was grateful to be by Doug's side as he passed.
"He is my knight in shining armor," says David.
In addition to memories of his brother, David came away from the military with skills that he uses to still serve others. Today, David is a pharmacist at St. Charles Hospital in Toledo, OH and is celebrating his 50th year in the medical field.
Trena Stocker
For Trena Stocker, serving in the military has always been part of her plan.
"As a third-generation naval veteran, it was what I intended to do," says Trena. "Even as a child I would discuss my plan every time my dad would come back from deployment."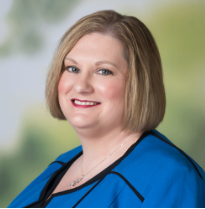 Growing up, the U.S. Navy wasn't Trena's only goal. She was also interested in a career involving health care and nursing.
"My time in the navy included Desert Storm and Enduring Freedom. It connected me with many injured veterans who, never once faltered in their pride of service," says Trena. "That taught me that nursing is very much holistic at times and that the spirit and mind play such an important part of the healing process."
During Trena's time in the U.S. Naval Medical Corps, she learned valuable technical skills. Trena also had the opportunity to practice in several states as well as overseas. Her experiences out of the country allowed her to truly appreciate the excellent health care opportunities we have in the United States.
"Providing care, as simple as immunizations to those in underdeveloped countries, sparked my interest in ensuring everyone, everywhere had access to health care," says Trena.
Fast forward many years and this is still one of Trena's passions. Today, Trena is president of Mercy Health – Marcum and Wallace Hospital in Irvine, Kentucky. Her interested in access to care, now in rural communities, is the same as it was during her time in the military.
Meet Russell Jackson, a U.S. Marine who now works as an athletic trainer for Mercy Health.