Happy Veterans Day! At some point today, take a moment to reflect and ask yourself what this holiday means to you.
We asked our team members to do just that and have compiled a few of their responses below. Some of these individuals have family members that serve; others have served themselves. Regardless of their personal stories, all of them believe this is an important day to thank and celebrate those who fight to keep us safe.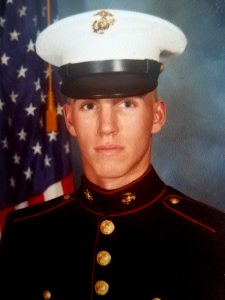 Mike Budzynski
Corporal, United States Marine Corps
I&T PMO Department
IT Project Manager II
As a veteran, it means putting the country before yourself. We are blessed with living in the greatest country on the planet, so serving in the military to defend the freedoms and liberties we enjoy is, in a very small way, giving back to the nation I love. (pictured left)
Teresa Carroll
Quality and Operations Specialist
Irvine Primary Care, Powell County Primary Care, Lee County Primary Care, Marcum and Wallace Hospital
Veterans Day fills me with pride and gratitude for all those that have served. Veterans Day is a personal reminder to never forget what my family members went through serving our country. Some lost their life, were injured or a prisoner of war. I will retell stories, share pictures and items brought home with my children and grandchildren. My hope is that future generations will remember and give their respect and thanks to all our veterans.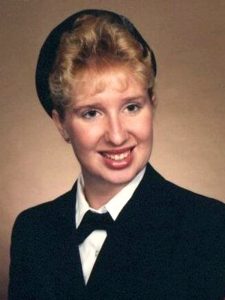 Julie Metzger
Medical Staff Services/Data Management Coordinator
Treasurer, Ohio Association Medical Staff Service Board of Directors
Willard Hospital, Tiffin Hospital
Military service: U.S. Navy, Petty Officer 3rd Class, Dispersing Clerk
It is honor, freedom, sacrifice, patriotism and love of the USA! It's time to take a moment to reflect on the importance of veterans combined service to this great county and sacrifice of our fallen heroes. It is the appreciation and the feeling I get when someone recognizes a veteran, not just on Veterans Day, but any day and how thankful I am to live in this great county. (pictured right)
Lori Ellis
Secretary, Physician Specialty
St. Elizabeth Boardman Hospital
I salute those who have made the ultimate sacrifice for our country. Today I applaud my son, Sgt. Phillip Gerner (USMC), for his honor, courage and commitment to the Marine Corps.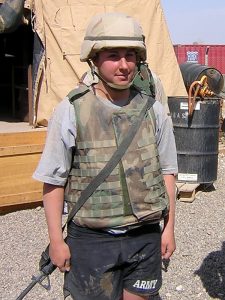 Maria Jackson
Director, Associate Experience
Cincinnati, OH
For my family and myself, Veterans Day holds a truly special place in our hearts. It represents a day of appreciation for the many sacrifices my family and I have made for this great country. We served in the Marines (my father), Army 82nd Airborne (my brother), Navy (my brother), Air Force (my brother) and the Army (me!). We have fought in WWII, Vietnam, and multiple years in Operation Iraqi Freedom. Our core family values are built around love, service and tradition. We are proud of our service like so many other families in this great country. For me, Veterans Day means family. (pictured left)
Matthew Cervantes, Sergeant, US Army
Security Office, Protective Services
Urbana Hospital
Veterans Day recognizes the men and women of our Armed Forces who are willing to travel and face the most unimaginable situations in the defense of the basic human principles of life, liberty and freedom. To these veterans, honor is more than a word, it is a hardwired philosophy of life. Military service is more than an occupation, it is an integral part of who they are. These are the people who bring hope to those who need it most.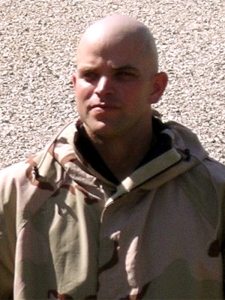 Bobby Parrett
Director of Rehabilitation Services
Springfield Regional Medical Center
What Veterans Day means to me is camaraderie and brotherhood. It is a symbol of the sacrifices our soldiers have made to ensure our way of life can be maintained today. I spent 13 years in the U.S. Army as an infantry platoon sergeant. I have always been amazed at those I served with and the extraordinary behavior they demonstrate for the love of each other and our beloved country. Regardless of your gender, race or ethnicity, soldiers stand side by side protecting each other during the most unforeseeable conditions that forge the bond of brotherhood. (pictured right)
Rita Hart
Pre-Service Center Specialist
Lorain, OH
Veterans Day means we should stop and thank a veteran. They are a stranger who is willing to sacrifice their life so that we may enjoy the freedoms we enjoy. And never forget what our veterans do. There are only two people in our history that were willing to lay down their lives so that we may be free: Jesus Christ and the American soldier. For that I am very grateful.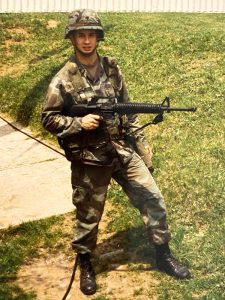 Jeffrey S. Ziviski
CFO, St. Charles Hospital
Military service: U.S. Army, E-4/Specialist
November 11 is a day to recognize those who have served. It is a day to pause for a moment to reflect on the importance of their combined impact on this great country and the immense sacrifice of our fallen heroes. Knowing that the country we've fought for stands behind us is incredibly powerful and inspiring, so what I celebrate on Veterans Day is the support of America. I also celebrate the incredible network of veterans, both young and old. These are people who raised their right hands and voluntarily committed their service to our country to ensure that it is safe and successful. (pictured left)
Andrew Henderson
Director of Digital Marketing & Automation
Cincinnati, Ohio
Every year, Veterans Day presents an opportunity to reflect on those who have dedicated their lives to our freedom and security. Specifically, it is a time when I remember my grandfather, Ed, whose brother, Herman, was killed during WWII. Rather than provide my own perspective, I would like to share that of my Great Uncle Herman from a letter I found in my grandfather's belongings just a year and a half ago:
"Do not grieve too much, for Edward would want you to be the same Mother and Dad he left at home and if Herman could talk to you, he would say, 'Well Mom and Dad, I've done my duty well. I have given myself so that the good U.S.A. might stand and be a safe place for all of you to live in.'"
May God bless all Veterans who have done their duty well.
Learn more about the health care services we provide at Mercy Health and find a provider near you.