"As the pharmacist in charge, I strive to create a positive work environment for our team. We enjoy a comradery contributing to the success of our team."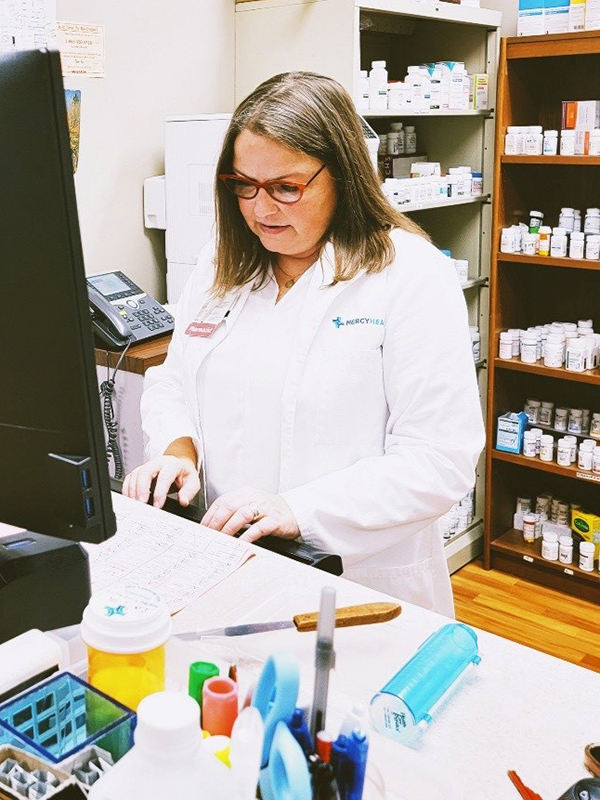 Michele Wells-Walker, PhD, was a stay-at-home mom for 20 years and says it's the best career ever. Then, after her children became less dependent on her, she decided to go back to school and start a second career.
"In 2008, I enrolled full-time at the University of Cincinnati in the pre-pharmacy program," Michele shares. "My brother, Marc, is a pharmacist and inspired me to pursue a doctorate in pharmacy. I respected his community leadership and how families entrusted him with their health."
Michele joined our ministry after receiving her Doctor of Pharmacy in 2015. Her first assignment was to open the new Mercy Health Clermont Outpatient Pharmacy. After that, she then became the supervising pharmacist there.
Michele strives to build strong relationships with both her team and patients to ensure personal, quality care.
"I am accessible to patients and enjoy building relationships with them," Michele says. "Patients come into the pharmacy or call me when it is convenient for them. They rely on me as a medication specialist to help them feel better and maintain their health."
The Mercy Health Clermont Outpatient Pharmacy also offers two charitable programs for patients who cannot afford the prescription medications they need. Michele maintains the relationship with the organization Dispensary of Hope and dispenses medication to those eligible patients, at no cost to them.
"I enjoy being able to give back to my community." Michele shares. "I am passionate about helping those in need and Dispensary of Hope is a great organization for that."
Michele serves patients and her colleagues in any way she can. Her charismatic personality and dedication to the ministry's mission are inspiring!
Happy National Pharmacy Week to Michele and all of our other pharmacy team members!
Learn about the pharmacy locations we have at Mercy Health.