Sports injuries unfortunately happen. Luckily for high school athlete Mackenzie Bickett, the team at Mercy Health – Wellington Orthopedic & Sports Medicine was there to guide her through an ACL injury to her right knee in 2015 as well as her left knee in 2017. This holiday season, Mackenzie is thankful to be active again and for being able to overcome the odds.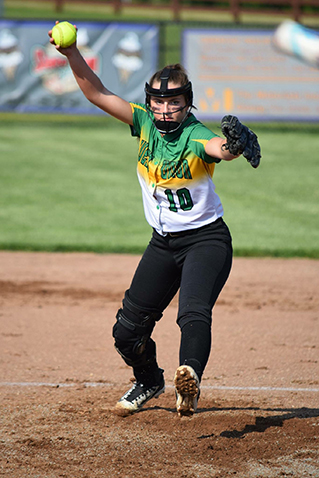 Sports have been a part of Mackenzie's life for as long as she can remember. From the age of five she has always been busy playing sports including softball, basketball, soccer, volleyball, and cheerleading. You name it, she participated!
Mackenzie's family never thought about her not playing a sport. Even with minor fractures, Mackenzie would only be out of the action for a few months at most. Therefore, when Mackenzie injured her left knee in a basketball scrimmage her junior year in 2017, it came as no surprise that she committed to overcoming this obstacle.
With help from the athletic training team at West Union High School, Mackenzie began pre-hab a month prior to surgery. Erin Robinson, MHScAT, a Mercy Health athletic trainer, worked with Mackenzie to strengthen her hamstrings, quads and core. Daily ice treatments were also key to minimize swelling.
When it came time for her second ACLR reconstruction surgery, this time on her left leg, Mackenzie was ready. Amelia Wiggins, D.O., from Mercy Health – Wellington Orthopedic & Sports Medicine performed Mackenzie's procedure and it went well. However, the recovery odds were not in Mackenzie's favor.
According to published research, while 83 percent of athletes return to play after one ACLR injury, only 40 percent of athletes return to play after bilateral ACLR injuries. When broken down by gender, only 31 percent of female athletes returned to play after bilateral ACLR injuries compared to 47 percent of male athletes.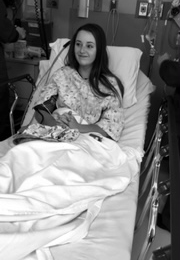 Through a comprehensive and collaborative effort, Mackenzie returned to the basketball court 11 months after surgery. Not only did she return; Mackenzie was stronger than ever! She earned All-District Honorable Mention and was named to the 3rd team All-District for the Student Health Action Coalition.  She beat her school record for most three-pointers scored in one quarter of a game, scored 29 points in another game (the fifth highest in school history) and was the leading scorer at her high school.
"The fact that Mackenzie was able to return to sports and at such a high level speaks volumes to the type of person and athlete she is," says Dr. Wiggins. "It also speaks to the services offered through Mercy Health – Wellington Orthopedic & Sports Medicine. A successful recovery is not just about the surgery, it is about the whole journey. Pre-hab, PT, GAP, and behavioral health services help our athletes with the physical and mental aspects of recovery. This helps patients overcome the fear that may prevent them from getting back to doing what they love."
Today, Mackenzie is earning her Bachelor of Science at Wilmington College. She continues to live an active lifestyle, participates in intramural softball and basketball, and works out on campus every other day.
At Mercy Health we are devoted to developing a customized plan for your specific sports and orthopedic needs. Whether it's ACL reconstruction or a joint replacement, our team has you covered.
Learn more about our sports medicine services and find a physician near you.