With COVID-19, there are many physical symptoms patients are fighting through. However, the battle with this virus is mentally taxing as well, especially if you are being treated in a hospital room in isolation. Health care professionals have started to see pre-existing metal health disorders worsen in infected patients.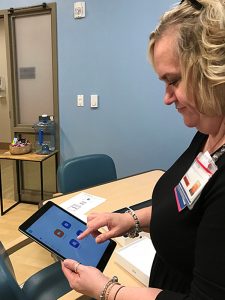 To help COVID-19 patients stay positive during their hospital stay, Mercy Health – St. Charles Hospital's Behavioral Health Center has been hosting virtual group therapy sessions. These sessions allow individuals battling COVID-19 to connect with each other in the hospital as well as social workers. Recreational therapists are also hosting groups and pastoral care is planning on starting a group soon.
Adapting the telemedicine approach for group therapy provides much-needed emotional support without the risk of face-to-face interactions.
"Connecting patients through telemedicine reduces risks to individuals receiving care as well as to health care workers," says Silvia Snyder, director of operations at St. Charles Hospital in Toledo, OH (pictured above).
Using iPads, patients are able to connect via video chat with others from the comfort of their own rooms throughout the day. The hospital has been using eight iPads so far, and there are more available if needed.
According to Craig Albers, president of St. Charles Hospital, stress is another mental health side effect of COVID-19.
"We're hearing more stories of that now, where people are starting to have more mental health crisis issues that are developing because of isolation, because of stress and other environmental factors that are occurring because of social isolation," Craig says.
The teams at St. Charles have truly stepped up by finding new ways, like the virtual group therapy sessions, to give patients the best care possible despite the limitations caused by this current pandemic.
"We want the patients on that unit to have as much exposure to normalcy as we can," Silvia shares.
Craig also adds, "I think in times of dramatic change like this, it is great opportunity for our organization to be innovative in ways that we can impact patient care differently that can really be an adjunct to what we have historically done as well."
Learn how you can send a personal thank you to our team members during National Hospital Week.
Stay updated on what Mercy Health is doing related to COVID-19.