Alexis Brady, 32, remembers walking up her stairs and feeling dizzy. Fifteen minutes later, she woke up on her bathroom floor and saw blood stains on her bathtub. She'd cut her eyebrow deeply and her eye was already turning purple.
Alexis called her parents and work manager right way and told them she was having an emergency. Realizing that she needed to get to the hospital, Alexis tried to get dressed.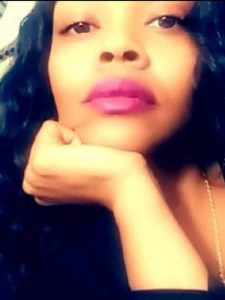 "I woke up by my shoe closet," she recalls. "Then I looked for my phone and woke up in the bathtub. I passed out four times in my house. Something wasn't right and everything was wrong. I could hardly breathe. I was short of breath, confused and my blood pressure was low. I felt hot, cold, nauseous and like my speech was slurred."
Alexis knew she couldn't drive, so she called 911 for help all while splashing water on her face to try to stay conscious.
"I heard them banging on the door and fell down the stairs letting them in. I remember asking for oxygen."
The ambulance transported Alexis to Mercy Health – West Hospital where the care team in the emergency department quickly realized that Alexis was suffering from a pulmonary embolism. This sudden blockage in a lung artery is caused by a blood clot, or in Alexis' case, multiple blood clots.
"West Hospital has a great staff," Alexis says. "I was by myself when it happened and when I got there. I was so scared and everyone I met was really calm. They kept me calm."
Things moved quickly. Just minutes after she arrived at the hospital, Alexis was undergoing a minimally invasive procedure in the cath lab to remove the clots from her lungs.
"I'm surprised I made it. I had so many clots go to my lungs, more than 10 on each side," she says, noting what Adam Raskin, MD, the Mercy Health physician and interventional cardiologist who treated her, later told her.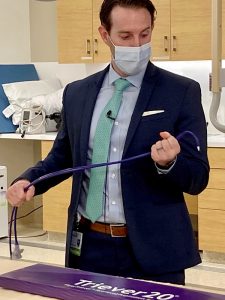 "When Alexis came in, she was on the verge of death," Dr. Raskin says. "She was experiencing a lack of oxygen as her heart was struggling to beat against a blood clot that was in the way and blocking air from getting to her brain."
Along with other physicians at West Hospital, Dr. Raskin is taking part in a clinical trial for a new device, the Inari Medical ClotTriever, to determine its effectiveness in treating deep vein thrombosis. His team also uses a similar device, the Inari FlowTriever, to treat patients with pulmonary embolisms. It's threaded through the femoral artery through the heart and then into the lungs. Once in position, the device instantly vacuums out any blood clots.
"Alexis was a good patient candidate for this device and our team's proficiency in the use of the ClotTriever and FlowTriever expedited our ability to treat her life-threatening condition," Dr. Raskin shares. "We used an insert within the FlowTriever's catheter that made it easier to remove her clots. It's the first time anyone has used it in Cincinnati."
Incredibly, after Dr. Raskin removed all of her blood clots, Alexis was able to go home after one overnight stay.
"The patient outcomes with the FlowTriever have been incredible," Dr. Raskin shares. "We don't need to use clot-busting medicines that can cause bleeding and lead to patients going into the intensive care unit for monitoring. Not with this. Following her procedure, Alexis went to the general medical floor, where she went from needing six liters of air to breathe to breathing room air in just 30 minutes."
Today, Alexis is on blood thinners and awaiting the results of genetic testing to determine what is causing her clotting so she can manage it.
"Sometimes, the first presentation is sudden death, which she narrowly avoided," Dr. Raskin says. "Anyone young and healthy who experiences unexplained breathlessness, chest discomfort or numbness in the legs should automatically seek medical attention. Knowing your family history is important, too. Alexis knew that her dad had blot clots and was able to give us that information which helped us treat her."
Prior to the near-death experience that brought her to West Hospital, Alexis had been feeling short of breath. She visited a local clinic where the care team couldn't find anything wrong. Alexis wasn't entirely convinced but trusted the people who examined her.
Today, she has the following advice for anyone who's not sure their health concerns have been fully addressed:
"Trust your intuition. You know your body best. If something isn't right, go see your provider and if things still aren't right, get a second opinion."
And what about if someone finds themselves in a crisis?
Alexis says, "Keep fighting and don't give up. I'm so happy, thankful and blessed. I've got so much to live for — my family and my friends and my work. I've got a lot of stuff still to do. I genuinely care for people and I like making a difference every day."
Learn more about the heart and vascular care we offer at Mercy Health.