When Bob Hawker hoisted a mallet and aimed it towards the large gong in the lobby of Mercy Health – Perrysburg Cancer Center, it was with joy and relief. His swing and the loud tone that came afterwards meant the end of his treatment for prostate cancer.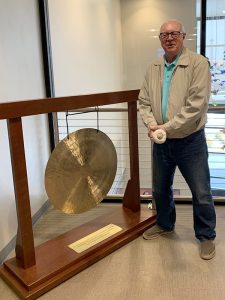 And now, during Men's Health Awareness Month, Bob is eager to share his story to help and inspire others.
After spending five days a week for five and a half weeks receiving concentrated radiation treatment, Bob shares he was encouraged to give that gong a "good whack!" While he was happy to walk out the door, he felt compelled to share just how important our team members had become to him during his treatment.
"Everyone at the cancer center makes it comfortable. It's all done so professionally," Bob says of his experience. "They're friendly and it's very reassuring. The team talks to you about what's going on and creates a positive environment."
With a history of prostate cancer in his family, Bob was actively engaged in his health and would routinely have PSA screenings. It was after his PSA number reached an abnormal level that Bob's urologist suggested a biopsy.
"It was confirmed that I had prostate cancer and treatment was required," Bob says. "The treatment path I chose was radiation."
After researching local cancer centers, Bob decided to receive his treatment at Perrysburg Cancer Center. It is located in his community and he had heard several positive testimonials, so Bob figured it was the right place for his treatment.
With his wife's support, Bob began his treatment and made his way every day to the facility. After working with his comprehensive care team, Bob would come home to a high-five from his wife and would mark a red X on his calendar.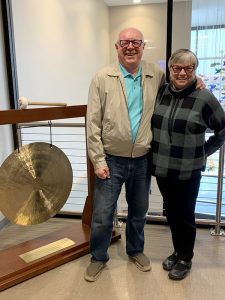 "This cancer center is the best kept secret in Perrysburg!" Bob shares.
Because Bob's cancer was caught early and in a very treatable stage, he underwent external beam radiation therapy led by radiation oncologist Suketu Patel, MD. Radiation involves using high energy x-ray beams targeting the tumor precisely to kill cancer cells, while reducing exposure to nearby healthy tissues.
Bob shares that his treatment was fast, painless, and, thanks to his caring team of nurses and technicians, always without stress.
"The fact that Mercy Health can do these treatments in 28 sessions instead of the usual 40 because of the equipment they have is remarkable," he says.
Five weeks is a long time, but Bob shares that the open dialogue with his doctor as well as the team who administered his treatment made the experience a positive one.
On his final treatment day – the day he rang the gong – Bob marked a double red X on his calendar and gave his wife a celebratory high-ten.
Learn more about prostate cancer as well as all of the cancer care services we offer at Mercy Health.