Grady Clemons wasn't thinking about statistics when he decided to get his screening for prostate cancer. He was just following the advice of his doctor.
However, if he had been, he would have known that one out of every nine men in the U.S. will be diagnosed with prostate cancer in his lifetime. He would also have known that prostate is the most common non-skin cancer nationwide among men.
"My doctor referred me to the urologist, and I took the screening," says Grady, a 76-year-old retired factory worker. "It's just a simple thing. Took a biopsy, it turned out to be ok."
Grady's age prompted his doctor to order the screening since age is the most common risk factor for prostate cancer. And while all men are at risk, studies have shown that African American men are more likely to get prostate cancer and are more than twice as likely to die from the disease. Family history is another key risk factor for prostate cancer.
Luckily Grady's test results came back negative for prostate cancer. However, since he has multiple risk factors, it was critical that his screening took place.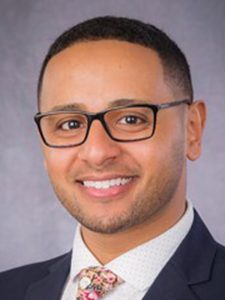 September is Prostate Health Awareness Month, and we are encouraging all men to talk to their doctor about their risk for this disease. For men 50 and older, or for African American men 40 and over, this means scheduling a prostate-specific antigen (PSA) test.
"PSA is a biochemical antigen that is released by the prostate. It is detected in a blood test and it is used for prostate cancer screening," explains Hesham Mostafa, MD, (pictured left) a urologist at Mercy Health – St. Rita's Urology. While there has been some debate about the use of PSA for cancer screening, the American Urological Association guidelines still recommend a PSA test for prostate cancer screening.
"There are only a few recognized risk factors for prostate cancer: one of them is being African American. Therefore, we are putting an emphasis on prostate cancer screening for African American men," Dr. Mostafa shares. "Screenings are also recommended for any male between the ages 55 to 69 or those patients with family history of prostate cancer."
There are rarely signs and symptoms of prostate cancer, which is why screening and early detection is so important. If the cancer is advanced though, sometimes individuals will notice worsening urinary symptoms including weak stream, urinary frequency or hesitancy. In very aggressive stages, there can be weight loss, spinal back pain or very poor appetite.
"You can set up a PSA test by talking to your primary care provider," Dr. Mostafa says. "You can also have a referral to a urologist who will then order a PSA blood draw. The blood draw is a very simple test that does not require fasting."
Grady is so glad he trusted his doctor and was screened for prostate cancer. Now his doctor can monitor his PSA levels moving forward and Grady can stay in charge of his health.
"I would advise other men to stay away from nicotine and stuff like that and to do like the doctor tell you to do," he shares.  "Schedule your PSA test today."
Learn more about prostate cancer and find a Mercy Health provider near you.