Back in March, Michael Mitcham, then 58, noticed that he had been feeling a little pain or burning in his stomach over the past month.
"I thought it was acid reflux and I started going online, researching my symptoms," Michael shares. "I thought I had it figured out."
Then, he experienced shooting pains in each of his forearms.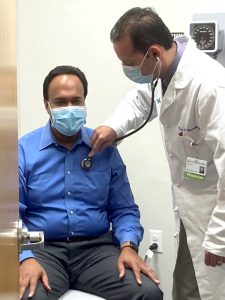 "I thought, 'it's not just the left one, so it can't be a heart attack,'" Michael says. "Then, I read that ginger helps relieve acid reflux, so I ate a ginger snap cookie and the pain went away."
The success of the ginger snap in relieving his symptoms confirmed to Michael that his self-diagnosis of acid reflux was right. On March 15, he had an appointment with his primary care doctor, Dino Morello, MD, who practices at Mercy Health – Kings Mills Primary Care.
"I shared with him what I had been feeling and different acid reflux medications," Michael recalls. "Then Dr. Morello took a step back and said, 'Let's do an EKG first to ensure your heart is OK.'"
It was after looking at Michael's EKG results that Dr. Morello spotted something.
"Dr. Morello said, 'I am not a heart expert, but something doesn't look right. This concerns me. We really need to do a blood test to be sure you don't have a heart issue. I want you to go to the hospital right now,'" Michael explains.
Michael followed Dr. Morello's orders by taking a copy of his EKG to the nearest hospital and requesting the blood test.
"I even called my wife to tell her I would be late to dinner," he says.
However, it would be 12 days before Michael returned home.
Team members at the hospital performed another EKG, which showed the same abnormality Dr. Morello had spotted. Then, a blood test confirmed an elevated presence of Troponin T, a protein found in the heart muscle that leaks into the bloodstream following a heart attack.
"They said, 'You are not going anywhere,'" Michael says. "Testing confirmed that I had three blocked arteries, two at 100 percent and one at 70 to 80 percent. My heart was operating at maybe 50 percent of its capacity for oxygen."
From there, Michael underwent quadruple bypass surgery, an open-heart procedure. Needless to say, he was completely surprised by this turn of events.
"I play tennis all the time, several hours per week. I had even played that past Sunday. I don't smoke, I'm not diabetic and my cholesterol is reasonable. It may possibly be hereditary coronary heart disease though," Michael says, noting that he lost both his parents early.
Regardless of the cause, Michael has since made a remarkable recovery, fueled by his own determination. We checked back in with him at the end of 2021, and this is what he had to share.
"I'm still feeling great! If I didn't have the scars on my chest, you would never believe that I had open heart surgery in March. I continue to exercise and play lots of tennis. I take all of my medicine and I completed cardiac rehab. I even went back to work in late May."
When recalling all he has been through, Michael always thinks about that visit he had with Dr. Morello.
"It all starts with Dr. Morello. What if I didn't go into his office that day? What if he just gave me acid reflux meds and didn't do the EKG? What if he didn't encourage me to go the hospital? My situation was getting worse. So many people think we can Google our symptoms and self-diagnose. For all Dr. Morello did, I will be eternally grateful."
This holiday season, Michael has lots to be excited about and even more to be grateful for.
"I am looking forward to the holiday season, and seeing my kids again in December for Christmas. I have much to be thankful for, and wish everyone a safe and happy holiday!"
Learn more about the primary care services and heart and vascular services we offer at Mercy Health.