Lana Renollet has always been an active kid. At 10 years old, she loved to run, jump, dance and swim. According to her mom, Brittany, however, there was always something holding her back.
"Lana couldn't seem to catch her breath," Brittany shares. "She was often tired, and we noticed that when she was swimming, she couldn't take long enough strokes and would sometimes gasp and swallow water."
And it wasn't just during the day that her parents noticed Lana's struggle to breathe.
"At night she would snore and would always be tossing and turning. Sometimes she would wake herself up coughing so hard that it would make her sick."
At Lana's annual checkup, Brittany talked to her doctor about her concerns. The doctor noticed that Lana's tonsils were larger than normal, and then referred us to an ear, nose and throat doctor (ENT). Although they were prepared to learn that Lana would need to have her tonsils removed, they were in for a surprise when they arrived for their first ENT appointment.
Three years and three different ENTs
"The first ENT we saw kind of pushed us aside," recalls Brittany. Despite Lana's symptoms and her parents' concerns, they were told that there was nothing that could be done.
"He didn't seem to want to work with us, and just told us that Lana would grow out of it."
A year later, a second ENT would tell them because Lana didn't have a sore throat or chronic ear infections, it didn't warrant any treatment or action. The family was left, once again, waiting it out for another year.
By the third year, Lana was not showing any improvements, so Brittany and her husband, Jesse, decided to give it one more try. This appointment, with Dr. Kaete Archer, MD, Otolaryngology/ENT at Mercy Health – Defiance, offered the answers they were desperately searching for.
"Dr. Archer was the first ENT to really listen to our concerns," says Brittany. "Lana had been dealing with this for more than three years, and we were so relieved to find a doctor that really listened."
Dr. Archer explained that, even though Lana wasn't complaining of a sore throat or ear infections, the interruption to her sleep was having an impact on her metabolism and her ability to stay active.
Caring team members bring comfort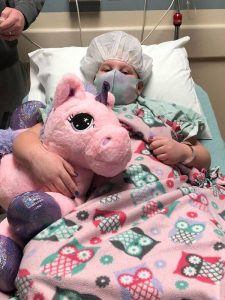 Dr. Archer didn't just listen to the family, she also took the time to talk directly with Lana.
"Lana is a nervous girl," says Brittany. She recalls how Lana started to cry when she heard that she would need to have her tonsils removed.
"Dr. Archer comforted her and helped explain what was going to happen. In the end, Lana really enjoyed the time she spent talking to Dr. Archer."
The compassion that Dr. Archer showed the family during their office visit continued when Lana arrived on the day of her surgery. Armed with a stuffed animal from a friend and a blanket made by her Nana, Lana was still scared to have her tonsils removed.
"We were all nervous," says Brittany, "but everyone was so amazing that we also felt comforted. All the nurses introduced themselves and were very thoughtful. We knew she was in good hands."
Although Lana may have started the day with nervous tears, it wasn't long before the doctors, nurses and CRNA had her giggling and smiling.
"She started to cry before they went back, but everyone rallied around her and encouraged her," remembers Brittany. "It was good to hear her laugh."
On the road to recovery
Now that Lana is on the road to recovery, her parents can't wait to see how her sleep and activity levels improve over time. Less than a week after surgery, Lana was already eating and drinking with minimal pain and looking forward to heading back to school.
Lana and her parents were all grateful for the excellent care she received from Dr. Archer and her team at Mercy Health – Defiance.
"We had been struggling with this for over three years," Brittany shares. "Dr. Archer heard our concerns and took the symptoms we were describing seriously. We are thankful for her and her team for making this a successful experience for our scared little girl."
Has a Mercy Health provider like Dr. Archer made a difference in your life? Share your story with us ahead of our Doctors' Day celebrations on March 30.