For many people, the hardest part of getting into any job is a lack of experience. Everyone wants to hire someone with experience, but how can you have it if no one will let you work to gain it?
Well, we have a program that can help anyone interested in getting into the health care field.
So, no health care background? No problem.
"Initially, we started the Patient Care Tech Trainee program, because we had a huge void to fill," Susan Slusher, supervisor of nursing professional development and education in our Springfield market, explains. "We had a lot of open positions, and a lot of applicants were willing to come work here. They wanted to be in health care, but they didn't have a pathway to do that because they had no experience. I think that deterred a lot of candidates. So, we created the program to fill that huge need we had and as a way to pull people in from the community. We're the only hospital in Springfield, so we're pretty involved not just by giving health care but as an employer for Clark County."
Once accepted into the program participants begin by completing an online learning course through Mercy College. Candidates have about a week to complete the self-paced curriculum. Once they receive a certificate of completion, they're then paired with one of our team members at the hospital for on-site training.
"We put the skills they've just learned to the test by doing hands-on training," Katie Crowe, manager of internal mobility for our ministry, adds. "Once our nursing team is confident they're good to go, we put them into that patient tech care role on the floor and off they go. We've already had 85 hires to go through this training program in just the Springfield market."
Juwan Walker is one of these 85 hires.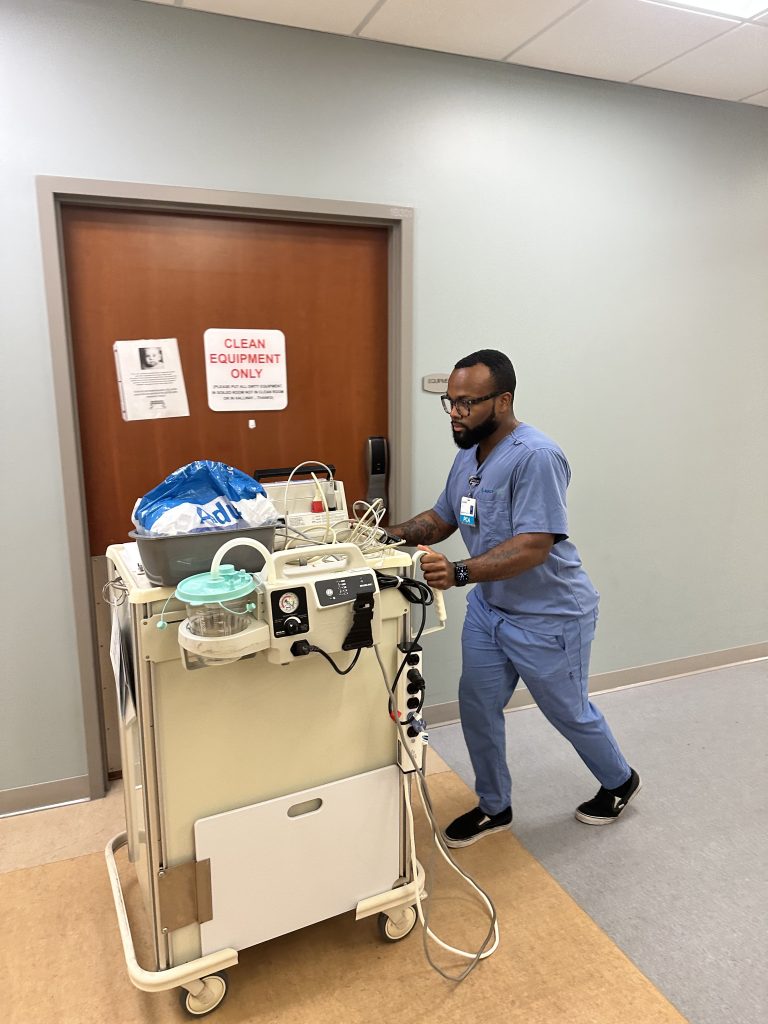 He joined the program in 2022 after hearing about it from a friend who knew he was looking for a chance to get his foot in the door.
"Prior to working at the hospital, I was working in a warehouse – completely different background," Juwan says with a laugh.
As a self-proclaimed "gym head" who is "very into physical fitness," Juwan always thought health care sounded like an interesting path. However, he didn't find the idea of nursing school appealing. That is until after this program helped him find his true passion.
"I thought it would be fun to be a physical therapist, so once I completed the program, they put me on the acute rehab unit," Juwan recalls. "After working there, my mind completely changed about physical therapy and I actually realized how much I liked assisting the nurses. Coming from someone who has never worked with patients ever, it was very helpful. I figured out that I really like this – being one-on-one with patients and building a relationship with them, hearing their stories."
Now, Juwan is getting ready to start nursing school in the next year with hopes of becoming a practitioner of some kind – his chosen specialty is still to be decided.
"This program really made me see that I do want to be a nurse instead of just being on the outside looking in," he adds. "It was a completely different route than I thought it would be, but seven years down the line, here I am. It was a full circle moment."
This is exactly the type of moment we hope to continue creating for others like Juwan.
"He's continuing on with his education, which is exactly what the program is designed for – people with no health care background, no previous knowledge, wanting to get involved and make that career path possible for them," Susan shares. "There's been several people like this who it's helped put on the path to college and now they're in LPN and RN school – which is what we wanted it to do, to create that pipeline for nurses and health care workers."
To learn more about our Patient Care Tech Trainee Program, contact Lora Mossbarger at LMossbarger@mercy.com.
Learn more about the career opportunities we have available at Mercy Health.