Nearly half of Americans are considered obese, which carries major health consequences. Just ask David Plant (pictured above right), who believes his weight led to him needing a new kidney.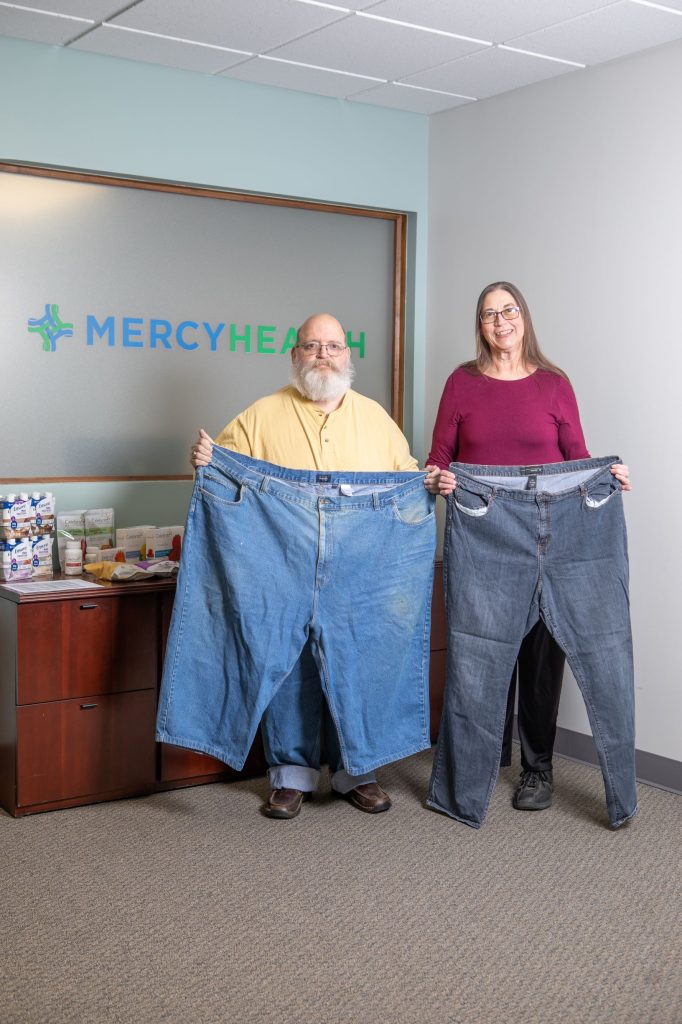 "My labs at my primary care visit got so bad they referred me to see a nephrologist, Dr. Sanju Varghese, and I also began doing home hemodialysis," David, who tipped the scales around 420 pounds at one time, explains. "He believed the kidney failure was caused by either my diabetes or my high blood pressure – which really goes back to my overall size."
David's cardiologist was also worried about health complications that might arise, so he shared some information about the weight management programs we offer in our Springfield market.
"At Mercy Health, we offer a variety of options for patients – from counseling with a dietitian to medications for weight loss and bariatric surgery as well," Jackie Dahlberg (pictured above, right), our Springfield weight management program coordinator, explains. "Patients can utilize more than one program – we have non-surgical patients who also opt to do medications, but like the accountability of weekly weigh-ins. We also have medication patients that decide they want a bigger tool and want surgery. Our team is great at helping patients find the right tools and path for them."
For David and his wife (pictured in copy), they started with the non-surgical option – meeting weekly with Jackie, who served as the program's dietitian at the time, to develop an individualized meal plan.
"My biggest takeaway from that was really, there wasn't anything you couldn't have," David shares. "That mindset is kind of daunting – 'Oh I can never have this or that again,' but there's actually nothing you can't have in moderation. Maybe you don't have cake or ice cream every day, but if you have a day where you really want some, you can have a small portion and that doesn't break the diet."
David saw his scale numbers drop below 300 before he hit a plateau during the COVID-19 pandemic. While stalls in weight loss are an expected part of the journey, it was preventing David from getting an important procedure done.
"I wasn't gaining, but I wasn't losing," David says. "Still, I had gotten to the point where it was conceivable to get to where I needed to be in order to qualify for a kidney transplant."
Still needing a little help to get to his ultimate goal, David turned back to our providers in our Springfield market to discuss surgery.
"For people like David, who have a significant number of pounds to lose and/or are dealing with other health issues, diet alone may not get them to their goal," Jackie explains. "Surgery is definitely not easy – anyone who has had it will tell you that! It's also not this huge scary thing that it may have been 30 years ago. Our program has excellent quality standards and outcomes, and we work hard to ensure our patients have a great experience."
David's weight loss surgery went well, and he credits going through the non-surgical weight loss program first played a big part in making it a more positive experience.
"It was extremely helpful having gone through the dietary weight loss first – to have that history and background, being used to it," David says. "So, it wasn't as much of an adjustment post-surgery. I recovered fairly quickly, and the weight loss resumed so that I was able to get down to the weight I needed to be for my kidney transplant."
Then, in 2022, David finally got his new kidney, and he says he's never felt better.
"The big change after the kidney and the weight loss is I'm physically able to do so much more – mobility, flexibility, those kinds of things," he shares. "It's even simple things around the house – I can bend and pick something off the floor now. Even my arthritis problems have seemed to have gone away. Overall, I can see that I am definitely healthier, and I feel better, and I can move around better. It's been well worth it."
David's story is the kind of success story that Jackie and the team love to see. They also hope it will inspire others who need encouragement – whether they're just getting started or trying to stick to a weight loss journey they're already on.
"David started this journey with me in September of 2017, and he is still losing weight today," Jackie says. "He's done a great job staying consistent through times of faster weight loss, plateaus and even some gains. He keeps working at it. That's why obesity is considered a chronic condition. We can manage it, but it requires consistent treatment to maintain a loss. Those who have had success are consistent – they don't give up if they experience weight gain. They reach out often for advice and help, and they have great support. David has all of these."
Alongside Jackie, Dr. Terry Carman, dietitian Cheryl Robertson and certified nurse practitioner Pamela Raines make up the Mercy Health – Springfield's Surgical Weight Loss program.
Learn more about the weight loss services we provide at Mercy Health.