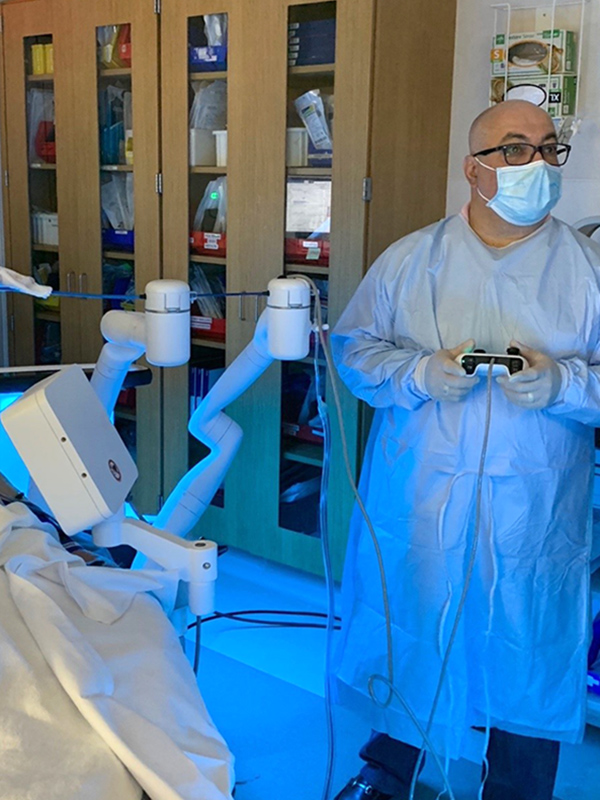 We are proud to share that our ministry has become the first health system in the Paducah, Ky. area to acquire a new robotic-assisted procedure that can help detect and diagnose lung nodules. This new system, called the Auris Health Monarch® Platform, is the newest high-tech tool in the fight against lung cancer.
"This platform allows me to have a safe and precise technique to obtain tissue samples or biopsies from lesions or nodules located in areas of the lung that are otherwise not safely or easily open to such biopsies," Mohamad Abul-Khoudoud, MD, with Mercy Health – Paducah Pulmonology, says. "A tissue sample or biopsy is needed to know the nature of lung nodule seen on X-ray studies, such as low dose CAT scan screening for lung cancer, since these nodules can be early cancers, especially in smokers."
The Monarch® Platform is used to view the inside of the lungs and obtain a tissue sample for biopsy. This is all done in real time and can enable earlier and more-accurate diagnosis of small and hard-to-reach nodules around the edge of the lung.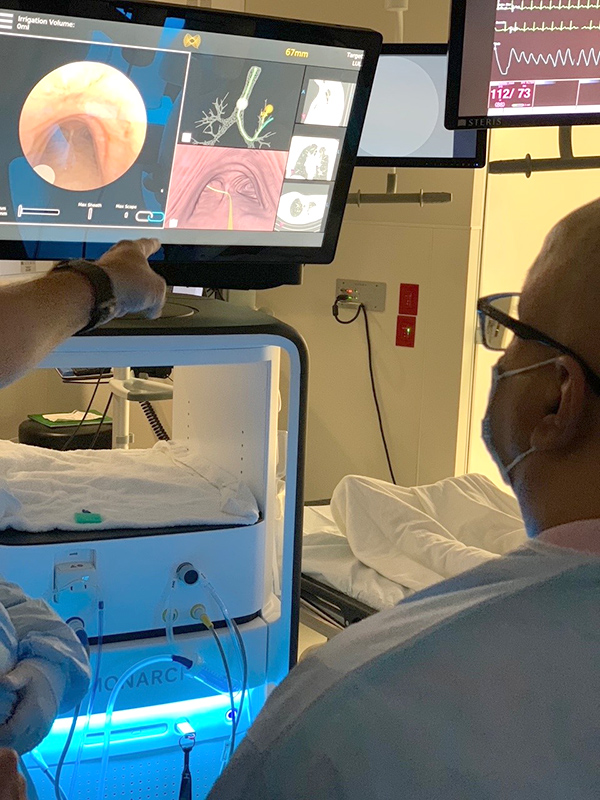 "Lung cancer is the leading cause of cancer deaths worldwide, in part because it has no symptoms in its early stages," Dr. Khoudoud adds.
In fact, more than 90 percent of people diagnosed with lung cancer do not survive the disease because it is often found too late and is in an advanced stage. There are lots of options available for detecting lung cancer, but all have limitations in accuracy, safety or invasiveness. These limits lead to false positives, false negatives or unwanted side effects, including expensive health care costs and extended hospital stays.
The Monarch® Platform allows Dr. Khoudoud to navigate the flexible robotic endoscope to the periphery of the lung with improved reach, vision and control. It combines traditional endoscopic views into the lung with computer-assisted navigation based on 3D models of the patient's own lung anatomy. Overall, the Monarch® Platform provides physicians with continuous vision throughout the entire procedure.
Learn more about the lung cancer care services we provide at Mercy Health.