On June 7, just days before her 35th birthday, Amanda Toms became the first patient in southwest Ohio and the Tri-State region to receive Abecma. Abecma is the first Chimeric Antigen Receptor T-Cell Therapy (CAR-T) drug approved by the Food and Drug Administration (FDA) for multiple myeloma, a blood cancer.
Amanda had her treatment at The Jewish Hospital – Mercy Health Cincinnati Cancer and Cellular Therapy Center. OHC, an independent cancer practice, and The Jewish Hospital are one of three provider/hospital groups in Ohio that offer this drug for multiple myeloma patients.
"Abecma is for people who have had multiple lines of treatment and continue to relapse. That's me," Amanda shares. "In clinical trials, Abecma gave people time off from treatment. I will not be on any type of treatment after this and that will give me the opportunity to live a more normal life."
CAR-T may mark the first break from treatment Amanda will have had since January 2018, when she was first diagnosed with myeloma after months of arm pain that signaled something was wrong.
"I'd just gotten married six months before and I was working my dream job as a child life specialist at Cincinnati Children's Hospital Medical Center, helping kids and families cope with medical experiences," Amanda says.
Instead, it was Amanda who found herself starting a long medical journey. Her arm pain became so debilitating that she had to stop working. A neurologist initially diagnosed her with a nerve condition. Just a few months later, on New Year's Eve, Amanda felt tingling in her fingers and toes.
"The next morning, I couldn't walk. I couldn't feel my legs," she says.
Scans revealed that a mass was pressing on her spine and affecting her limbs. Another mass was eating away at her left humerus, the bone that runs from the shoulder to the elbow. Amanda had emergency radiation to shrink the mass compressing her spine and a rod put in to stabilize her arm.
"After a few days, they found the myeloma," Amanda says.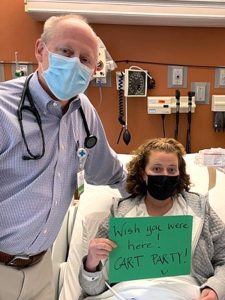 Myeloma, also known as multiple myeloma, is a blood cancer. It forms in a type of white blood cell, called a plasma cell, that's found in our bone marrow. While white blood cells typically help us fight infections, cancerous plasma cells can multiply and overtake healthy blood cells. These cancerous plasma cells then produce proteins that can damage bones, organs, immune system and red blood cells.
The average age of someone diagnosed with multiple myeloma is 65. Amanda was 31 when she received her diagnosis.
After her diagnosis, Amanda started chemotherapy immediately. She traveled to the Mayo Clinic in Scottsdale, AZ, which has world-renowned myeloma specialists and is located near her mother.
"I spent over two months in Scottsdale in a rehab unit learning to walk and use my left arm again, while also immediately starting myeloma treatment," Amanda shares.
After Amanda returned to Cincinnati, she started a weekly regime of oral and IV chemotherapy before undergoing a stem cell transplant in 2018 at The Jewish Hospital – Mercy Health Cincinnati Cancer and Cellular Therapy Center. The facility's medical director is the OHC's James H. Essell, MD. He is a medical oncologist, hematologist as well as blood and marrow transplant specialist.
Stem cell transplants are a typical treatment for blood cancers and can help multiple myeloma patients enjoy a period of remission. Unfortunately, Amanda relapsed quickly, and doctors found myeloma cells around her heart just two months after her treatment.
She continued chemotherapy and was stable enough to return to work part-time in the spring of 2020. Then, in February 2021, Amanda had another relapse, with doctors finding a mass in her colon. During this time, Amanda and her mom had been following the FDA's review of Abecma, a cell-based gene therapy to treat adult patients.
"It just got FDA approval in March 2021. My mom found the approval date and we called Dr. Essell saying we are ready for me to have this treatment," Amanda recalls.
During her infusion, Amanda took a photo of herself holding up a sign that read "Wish you were here! CAR-T PARTY!" that she shared on social media. Her friends and family then shared that photo of a smiling Amanda to help support a major fundraising campaign Amanda undertook to help others with blood cancer.
"One of my nurses nominated me for the Leukemia and Lymphoma Society's Woman of the Year last year," Amanda explains. "When I had a relapse in February and learned I was going to have CAR-T, I thought, 'I want to do this. I can show what it's like to live with blood cancer and help raise money that supports research.'"
Amanda and her team raised $186,378 during this year's campaign, earning Amanda the Leukemia and Lymphoma Society's Woman of the Year title in the process.
"The money raised for this campaign five years ago probably went to CAR-T," Amanda says.
Amanda is aware that she benefited not just from LLS research funding, but also from a copay program that helps blood cancer patients with their medical bills. Today, she's paying all of this forward with her fundraising which is focused on an area that's close to her heart.
"I like helping young adults with blood cancer, since there are fewer resources for this group. I'm supporting a new young adult program and we've already put on an event to connect people for support," Amanda shares.
Learn more about blood cancer as well as the cancer care services we provide at Mercy Health.