Jim Eckstein has been busy battling blood cancer at The Jewish Hospital – Mercy Health. However, it did not stop him from walking his daughter down the aisle.
In October of 2017, Jim began feeling light-headed while doing yard work. He visited his primary care physician and was then referred to an oncologist. After a bone marrow biopsy, the level of expertise needed for Jim's case required a visit to Dr. James Essell, Medical Director of the Blood Cancer Center at The Jewish Hospital – Mercy Health. Come December, Dr. Essell and his team diagnosed Jim with Acute Myeloid Leukemia (AML), a rare cancer of the bone marrow and blood.
Meanwhile, Jim's daughter, Andrea, had become engaged in 2017 and was planning to get married in Hilton Head, SC in July of 2018. After his diagnosis, Jim's family was unsure if he would be able to attend the wedding.
Andrea and her fiancé, David, had already planned a small ceremony for their grandparents who could not make the trip. They decided to collaborate with Cheryl Winkler, a concierge in the hospital, to plan a ceremony in the unit's family waiting room. Cheryl even decorated the room like a chapel, filling it with flowers.
On January 20, 2018, Jim attended this special ceremony with a mask, walking his daughter down the aisle. It was an example of a true blessing, Jim says, to have "faith, positivity, and good people around you."
What followed was three rounds of chemotherapy in January, four rounds in February, and one round in March. Sadly, it became clear the chemotherapy was not working. The next treatment option was to start looking for a bone marrow donor.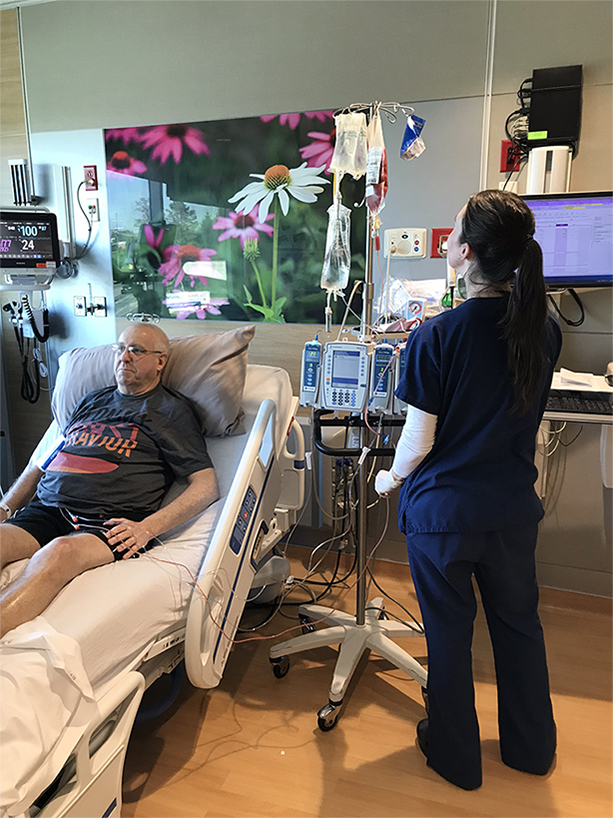 "I said, Doc, I got no choice. I am the most competitive person you've never met… and I hate to lose," Jim remembers. "We decided to go for it."
A donor was found just in time when a man in Germany matched with him. Jim was sent home in April to eat, rest and get stronger. He returned to the hospital a month later. On May 9, 2018, the blood cells came in from Germany and Dr. Essell performed the transplant with his team.
Throughout the entire process, Jim has been so please with his experience at Mercy Health.
"That program is so amazing because they don't just say 'you need a transplant' and they do it," Jim shares. "You see a psychologist, a nutritionist, your family has to come in, you have to have a caregiver… It's a very intensive program and they do it all so fluidly. The doctors and nurses on the third floor are angels. They do God's work. They saved my life!"
Jim spent 40 days in the hospital after his transplant, regaining strength and starting to eat again. He went home on June 8, 2018 but came back to the hospital for frequent blood tests and check-ins to make sure his body was taking to the transplant.
As the wedding in Hilton Head approached, Jim had no reason to think he would be able to attend due to his physical state. In fact, good friends had planned to move into the Eckstein's house while Jim's wife, Vicki, attended the ceremony.
However, Dr. Essell eventually decided that if Jim could find a ride with the proper arrangements, he could attend the wedding. Two days before the wedding, Jim arrived in Hilton Head to the complete surprise of his daughter and the rest of the family.
"We never dreamed he would make it," shares Vicki.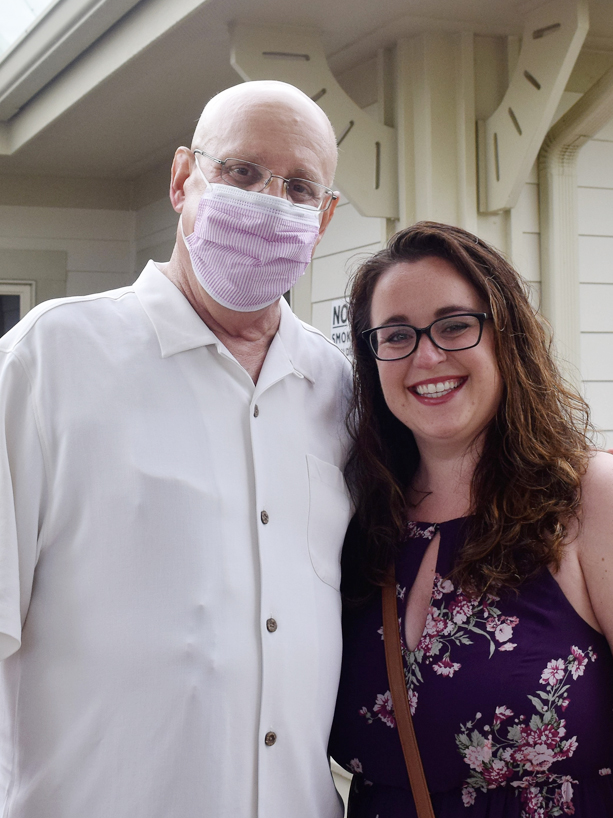 In fact, one of Jim's nurses, Kady Novak, happened to be vacationing in Hilton Head that same weekend. Andrea learned this and invited Kady and her husband to the wedding.
"One of our little angels," is what Vicki calls Kady, who assured the family of what Jim could eat and helped everyone feel a greater sense of comfort about his ability to be there.
Due to his sensitive immune system, Jim contracted pneumonia and was hospitalized in November of 2018 and again in April of this year. In 2018 alone, Jim spent over 130 days at the Bone Marrow Program at The Jewish Hospital – Mercy Health.
"The people at The Jewish Hospital are the people who've brought him back to life and kept him alive," shares Vicki. "He was exactly where he needed to be."
After healing from both of these hospital stays, Jim has a strict medical schedule with appointments every month which include a variety of testing. He also has almost 30 medicines he takes per a day.
It is an ongoing process but "their expertise alone is what keeps him alive," says Vicki.
Of Dr. Essell, Jim says: "I don't think there's anybody better than him in the whole country."
Jim and Vicki have even started visiting the nurses at the hospital as a way to express their gratitude.
"It takes a special person to be able to care for people in these incredible circumstances," says Vicki. "Those nurses are so amazing with the family… they explain everything. They put it in terms you can understand… they are the ones standing there to give you a hug when things go wrong."
The Ecksteins are grateful for the support and prayers from their family and entire community the last two years. Vicki remembers hearing that there were churches praying for Jim all over the city, ones that she had never even heard of.
"It alters your life forever. You never quite breathe a sigh of relief, but everyday is a blessing," Vicki states.
Jim replies chuckling, "everyday with me is a blessing!"
Visit Mercy.com to learn more about us and our healthcare services.