For two years, Rusty Wilson (pictured above, left with his son) kept an eye on a growing bulge in his lower abdomen.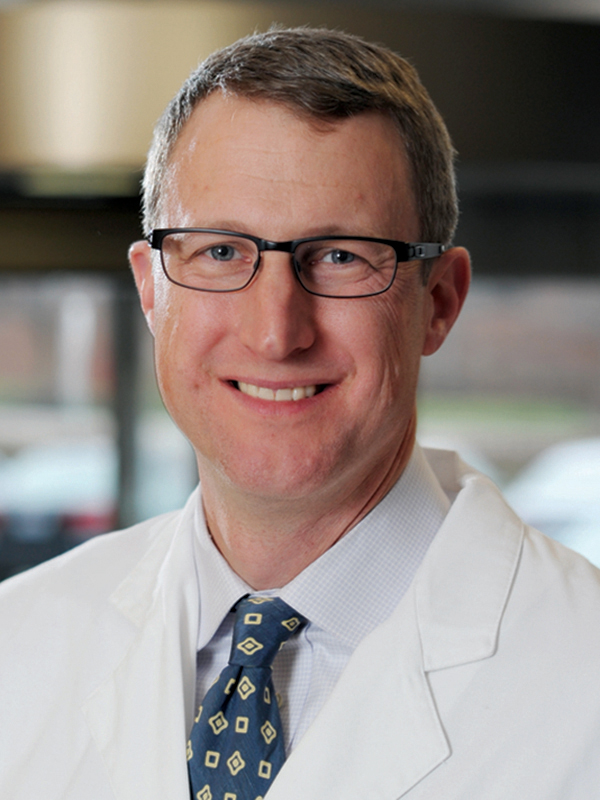 "It wouldn't go away like I thought it would," he shares. "I was experiencing some discomfort. It needed to be taken care of."
Rusty saw his doctor, John Heindl, DO, of Mercy Health – Eastgate Family Medicine, who recommended he make an appointment with David Ward, MD, (pictured left) a general surgeon with Mercy Health – General Surgery, Anderson.
"It was a quick diagnosis – about one second," Rusty recalls about his hernia diagnosis. "And Dr. Ward said it was time to do it."
The "it" was minimally invasive robotic surgery, which Rusty underwent at Mercy Health – Anderson Hospital in April 2021.
"There were hardly any stitches," Rusty shares. "Dr. Ward made three very small incisions by laser."
Rusty had bilateral hernias, one on each side of his lower abdomen. One was larger and more difficult to repair. This added time to Rusty's sedation while Dr. Ward completed the repairs. Rusty's wife, Connie, became concerned about how long her husband was in recovery following surgery. However, it was how Dr. Ward and Joe Wahle, RN, (pictured above, right) in surgical and recovery services, looked after Connie that made a lasting impression.
"Dr. Ward came out as soon as he was finished and talked with Connie for 20 to 30 minutes," Rusty says. "He answered all her questions and clearly took extra time to meet with her."
At the same time, Rusty was receiving outstanding care from Joe.
"Joe took great care with me to make sure my blood pressure was down where it should be," he says.
Then, Joe also looked after Connie.
"He kept Connie in the loop on what was going on, leaving me to talk with her at least three times," Rusty shares. "That was so helpful to Connie and I would really like to compliment him for doing that."
And can you believe just a week after all of this, Rusty and his wife went on vacation?
"I experienced no discomfort at all and felt great," he says. "I was able to play several nine-hole rounds of golf and take part in all other normal activities."
Learn more about the general surgery services we offer at Mercy Health.