It was the beginning of January 2021 when Travis Schultz felt that something didn't feel right.
"I consider myself a pretty healthy guy," he shares. "I eat right, work out several times a week and am always looking for ways to get outdoors and be active."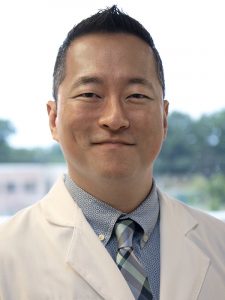 Travis says he felt like he had a pulled muscle in his stomach near his belly button and figured it would just go away. However, after a few months and with his wife's persuasion, he decided to make an appointment to get it checked out.
On Tuesday, March 9 Travis had an appointment with David Kim, DO, at Mercy Health – Perrysburg Surgical Specialists (pictured left).
"He was great and very detailed in his explanation," Travis says about Dr. Kim. "He told me that I did in fact have an umbilical hernia and went on to explain the surgical options."
Dr. Kim adds that there are several factors that guide surgeons in deciding how we fix umbilical hernias. In Travis's case, he had two options for fixing his hernia. He could close the hole with sutures alone, this is called a primary repair. The other option was to use a synthetic mesh for reinforcement.
"Even though the hernia mesh materials are much safer these days, we did take the time to discuss the possible risks of using the mesh for his surgery," says Dr. Kim. "In the end, we collaboratively agreed on a plan to fix his hernia using sutures because it was a small hernia. We did, however, discuss that should his hernia recur, we could always perform a repair with mesh in the future."
Some people live with hernia's their whole life. However, the ability to do that depends on each patients' specific circumstances.
"Since Travis is a very active adult, he had a higher risk of forcing more tissue through his hernia through physical exertion compared to a mostly sedentary individual," Dr. Kim shares. "Also, the size of his hernia defect was pretty small. So, even though he was always able to push that lump back into his abdomen, the fact that he could potentially force a larger bulge through a small hernia meant that he was going to be at risk of a surgical emergency unless we repaired it."
Initially, Travis wasn't excited to have the surgery. However, after talking with Dr. Kim, he knew that it was the best option so that he could get back to living his normal life.
"That being said, I wanted to do it as quickly as possible so I could start my recovery and not miss out on too much hiking, biking and all of the fun that summer brings," Travis says.
Travis's surgery was scheduled for two days after his initial consultation with Dr. Kim and the outcome has been great.
"Recovery was very easy and with minimal pain," Travis shares. "The hardest part was remembering not to exert myself too much. Luckily, Dr. Kim gave me recovery guidelines which I followed.
Now, a little over six weeks after surgery, Travis is back in action. In fact, he just returned from his first hike of the summer season on the Appalachian Trail.
Travis says he was extremely impressed with Mercy Health – Perrysburg Hospital and all of our wonderful team members.
"They made it as seamless as possible. They even brought my prescribed medication to my wife and I before we left so we didn't have to make an extra stop at the pharmacy."
Learn more about the men's health services along with all the health care services we provide at Mercy Health.