Heather Bedinghaus and nurse Abby Mivelaz, RN, BSN have a special relationship that defies the odds.
Heather has three children and each time she's delivered at Mercy Health – West Hospital, Abby has been her nurse.
As Heather and her husband, Alan, prepared to welcome their third child, Abby's name came up in conversation.
"Abby is the best of the best and we talked about her at home," says Heather. "We wondered if we might be lucky enough to have her again."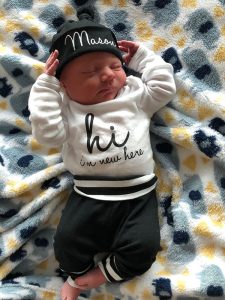 They were. As son Mason Thomas came into world at 10:28 a.m. on September 29, 2020. Abby was right there by Heather and Alan's side. She was also there when Madison Claire, four, and Hailey Elizabeth, three, where born.
"I've delivered two children for families before, but this is the first time I've been there for the third," says Abby.
The Bedinghaus' chose West Hospital when they lived down the street. It's still their hospital of choice now that they live further away.
"We liked the newness, the cleanliness and the staffing," says Heather. "We did our classes here and the staff was phenomenal with our tour. We felt comfortable and were happy with how big the rooms were and that they had a place for my husband to stay and sleep."
And then they met Abby, who's been a nurse with Mercy Health since 2013 and with the labor and delivery team for five years. She also manages patients' post-partum care.
"With my first child, I had to be induced. I was 36 weeks pregnant and it was a very scary experience.  Abby was super calm and genuine and was with me the whole night," says Heather. "She checked on us the next morning before she left. She does that extra stuff and you can tell she loves her job."
"Everything about the role gives me satisfaction," Abby confirms. "Seeing their face when they see their baby for the first time, that ultimate joy, I love it. It's very rewarding. I always knew I wanted to go into labor and delivery."
Heather's second child was born on the 4th of July, and things moved quickly that day.
"I didn't have time for someone to come by and take pictures, but Abby was there. She took pictures and video for us and took care of me through that day and the next."
And most recently, Abby was there again for a third time with Mason's birth.
"I was excited to see them again," says Abby. "When I saw her name on the paper, I knew I'd had them before. It's nice having an immediate rapport with family. They are already comfortable with you."
"They broke my water and he came really fast," says Heather. "Once again, Abby didn't disappoint! She coached me really well, along with the midwife, and made it possible for me to have a natural birth."
Because COVID-19 patient restrictions, Abby stepped up in a different way with photo duty while Heather and Alan met their son.
"I love taking pictures for families," says Abby. "It goes so quickly, and they are caught up in the moment. The pictures are great to have for after."
Learn more about the maternity care services we offer at Mercy Health.