After years of dealing with terrible knee pain, Cassandra Knee was ready to give up on finding a solution. Today, she is on the road to recovery thanks to the combined efforts of three Mercy Health providers in the Youngstown, OH area.
Read Cassandra's firsthand account of her Mercy Health experience here.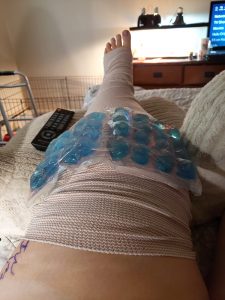 I had knee surgery about four and a half years ago. Since then, I've had nothing but pain in my left knee. In the past, I've seen other doctors about this pain. They all told me I was exaggerating, that the pain was all in my head and that I needed to suck it up. I was to the point I had given up and no longer wanted to hear I was crazy.
Finally, last year I was looking to switch primary care providers and found Tiffany Faust, CNP. She's been nothing but great and listens to me. I brought up my knee pain to her and she referred me to see Ian Walton, DO (pictured above right with Cassandra).
When I went to my appointment with Dr. Walton, I was expecting to be brushed aside and told the same things over again. However, Dr. Walton ordered x-rays and scans that ended up validating my pain. He prescribed a compound cream which helped me so much. For the first time in years, I didn't have to take ibuprofen daily.
Then on March 23, 2020, my knee went out on me. Due to the COVID-19 pandemic, I had to wait to find out what was going on. In May, when things started opening back up, I was able to go in for an MRI. It unfortunately didn't show too much.
However, after talking through these new scans with Dr. Walton, he mentioned there might be a possible tear in my meniscus. After everything I had gone through with my knee, I figured there would be no harm in having this checked out.
I had surgery on June, 1, 2020 at Mercy Health – St. Joseph Warren Hospital. Right after surgery, I was able to walk myself, with the assistance of a walker, to the restroom. I had no pain at that time, though that might have been due to the medications.
I've been going to physical therapy with Hans Kirr, PT, who is fantastic too by the way. Dr. Walton and Hans worked together and decided to lock my brace for six weeks after my surgery. At first, I wasn't thrilled about this but they both assured me it was best for healing. They have also dealt so well with me being cranky, unhappy and in pain. They are both very encouraging people.
While I know it's still early for me and my recovery, I no longer have the immense amount of chronic pain I had experienced before. Also, I haven't had to use ibuprofen, opioids or anything else over the counter since three days post-surgery. It's honestly just astounding to me that the pain is gone and it's such a relief!
I wanted to let you know that these three Mercy Health providers have been nothing but phenomenal. I have never had health care professionals that want to listen to how I feel. It's been so nice to be treated like a person with an issue rather than someone who was just crazy or making her pain up.
Learn more about the primary care and knee care services we offer at Mercy Health.