As a lineman for the regional electric company, Rob Berger often finds himself climbing poles. It's a job requirement that unfortunately means lots of wear and tear on his knees as well as his legs.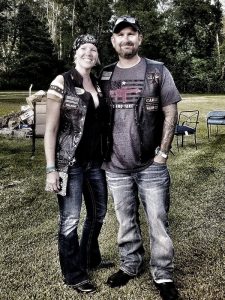 However, his job wasn't the reason Rob found himself clutching his knee in pain one day. Instead, it was a friendly wrestling match that he now admits he shouldn't have participated in.
"I'm 44 years old and don't like to admit I'm 44 years old," Rob jokes. He also notes that it was an unexpected side tackle that not only brought him down but caused serious injury to his knee.
"It popped my knee out and crushed my tibia. Crushed it, broke it, splintered it."
The injury initially brought Rob to the emergency room at Mercy Health – Perrysburg Hospital and then to an orthopedic specialist. Because of the extensive damage to his bone, he was then referred to Seth Phillips, DO, one of our orthopedic trauma specialists. It was quickly determined that Rob needed surgery.
Dr. Phillips is also an orthopedic surgeon who is fellowship-trained in orthopedic trauma.
"Rob had a bicondylar tibial plateau fracture along with a tibial spine fracture. What that boils down to is a fracture that involves both the inner and outer portions of bottom half of the knee joint as well as the specific part of the tibia the ACL attaches to," Dr. Phillips shares.
There was some good news though. Although his bone was significantly damaged, Rob remarkably escaped serious injury to his ligaments.
To help Rob heal, Dr. Phillips performed surgery that put his bone with his cartilage back in place using plates and screws. The surgery also involved using arthroscopy, or a small surgical camera, to look inside the knee joint and anchor the tibial spine fracture back down. This essentially restored Rob's ACL to its normal function.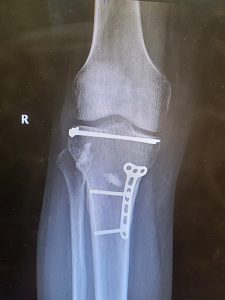 Dr. Phillips states the surgery went very well. However, the key to Rob's recovery was his determination and dedication to getting back to his pre-injury function.
"It was great to get to know Rob and his wife throughout this process," Dr. Phillips says. "It was extremely satisfying to see the progress made at each visit and ultimately, hearing Rob say he was ready to return to work."
Rob said that it wasn't only Dr. Phillips' expertise that put him immediately at ease, but also his demeanor.
"I work hard for my money. When I have to go see a doctor, I want to feel like I am being listened to and that my concerns are being addressed," says Rob. "My experience the whole time with Dr. Phillips was just that. He would answer any question we had… I never felt that he was rushing to get us out."
For example, before his surgery, Rob shared that he has a sentimental tattoo on his leg and asked Dr. Phillips to avoid incisions that could alter it.
"He said, 'okay, understood.' He didn't cut into it. He listened to one of my concerns and he didn't make me feel like, he knows best, he'll do what he wants," Rob says.
Post-surgery, Rob knew he was in for a period of healing. After several weeks off, he returned to work on light duty only. Since the end of January, he's been back to work full duty.
Rob still experiences pain as his muscles continue to heal around his now rebuilt knee. However, he shares it's nothing next to the feeling of not being able to walk and work properly.
"I'm walking, I'm bending. It works. It hurts but it works," he says, adding emphatically that there will be "no more wrestling matches."
Learn more about the orthopedics and sports medicine services we offer at Mercy Health.