The gauge that measures the water level of the Kentucky River in Irvine, KY stopped working after the river reached 41. 8 feet. The flood stage is 17 feet.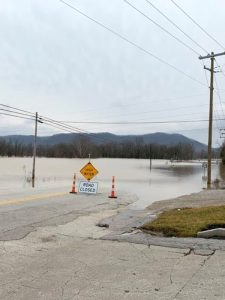 Historic flooding in February devastated areas of Kentucky's Estill, Lee, Powell and Owsley counties – the service area of Mercy Health – Marcum and Wallace Hospital. The flooding reached areas that had never received water previously, including shutting down Highway 52, Irvine's main thoroughfare. The flooding effectively turned Marcum and Wallace Hospital into an island, with both access roads to the hospital blocked by water.
At this time when emergency needs were everywhere, the community came together to ensure that the hospital that had always been there for them was supported.
"There are too many individuals to thank without risking leaving someone out," shares Trena Stocker, president of Marcum and Wallace Hospital. "The love shown to our facility and team members was overwhelming."
The city's fire and police departments ensured that our staff could get to work, delivering individuals via firetruck through flood waters. Once that was no longer an option, they took our teams to a point from which they could walk the rest of the way to the hospital. Area churches and civic groups provided meals to us during the disaster as well.
While the community supported the hospital, our Marcum and Wallace team members rose to the occasion by putting their focus on patients. Several of our employees who live close enough to the facility opened up their homes to coworkers so that they could go to and from work. Additionally, a handful of staff members stayed in the facility itself so that they could continue to serve.
Water rescued patients arrived at Marcum and Wallace Hospital by helicopter with both physical and emotional trauma. Additionally, some patients couldn't be discharged because they no longer had homes to return to.
"These patients required holistic care," Trena shares. "Our staff did amazing work providing the emotional support needed, especially when you consider that many of them were dealing with personal losses of their own."
Of our team members who experienced severe damage and loss to their own properties, one included an individual who had more than seven feet of water in her home and another who lost most of her family photos. Team members impacted by the flooding received support from Mercy Health Foundation's Associate Hardship Fund.
"Mercy Health took care of our staff just like our staff made sure our patients had what they needed," Trena shares. "It has been the silver lining of a tough situation, watching everyone come together to help others."
Learn about the health care services we offer at Mercy Health.