Each and every day, nurses go above and beyond to help those in need. The DAISY Award is a national honor which recognizes this extraordinary compassion that nurses provide their patients.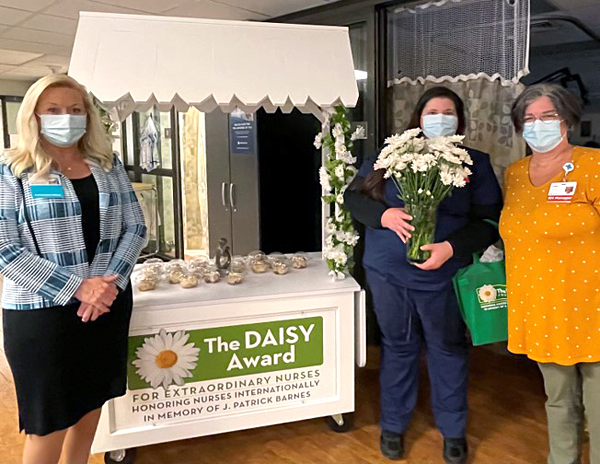 Recently at Mercy Health – Lorain Hospital, three intensive care unit nurses – Amy Faris, Stephanie Lanning and Sue Miller, along with emergency room nurse Karla Ullrich – earned this prestigious honor all thanks to one heartfelt letter.
The letter was written by a former patient and COVID-19 survivor. In it, the patient expresses their gratitude for these four nurses who performed life-saving care.
The patient's letter shared, "to those nurses who whispered in my ear 'you have to fight for it,' I heard you. For those of you who touched my hand, my shoulder, my face, I felt your comforting hand. All of you contributed to my will to live. I never knew just what it takes to sit with someone who cannot speak just give them a spoonful of ice – amazing! I remember trying to say thank you, but I could not speak and was told, 'you don't need to thank us, it's our job.' I could not disagree more. … My wish is to be uplifting with my words and actions, to offer a hand-up when you are down and an ear to listen when needed … Today I am walking out of this hospital after a month. I am not walking out alone. All of this hospital will be with me every day of my life."
All four DAISY Award nurses were touched by this letter and the impact they made on this patient's life.
"I am so grateful to God for my life today. Each day, as I cross the parking lot into work, I pray, 'God guide my hand and my heart. Your words, my voice. Thy will be done, not mine," Karla Ullrich tweeted after receiving her DAISY Award.
We are so proud of these four extraordinary nurses and are lucky to have them in our ministry. At Mercy Health, nurses mean the world!
Learn more about how you can join our nursing team today.