When you think about sports in the city of Cincinnati, you think about FC Cincinnati, a soccer club that's risen up the ranks and created one of the most energized and engaged fan bases this city has ever seen. Next month, they will find out if they are one of the next two teams to be given a spot in Major League Soccer (MLS), representing the highest caliber of play in the world.
But beyond being standouts on the field, the FC Cincinnati organization shares our deep and genuine commitment to the health, wellbeing and happiness of the Queen City community, which is why we are supporting their bid for an MLS franchise and have chosen to formally partner with them as they make that push.
Our partnership with the future FC Cincinnati MLS organization means not only greater opportunities to bring a stellar team to an even broader audience, but also creates avenues for us to have an even deeper impact on the communities we serve. Our FCC family has committed to helping us expand that impact by creating community gardens, soccer camps for underserved communities, health events and screenings and more.
As the largest provider of healthcare in the state of Ohio, Mercy Health encounters approximately 16,000 patients per day and we are committed to making all lives better – mind, body and spirit. For more than 160 years, we have focused on improving the health of the communities we serve across the states of Ohio and Kentucky – and should FC Cincinnati be awarded an MLS franchise, we look forward to working closely with FCC and Major League Soccer to expand our impact across the region and beyond.
As we work daily to enhance the lives of our communities, partnering with an organization with similar values and community focus is a natural step that will take that work a step further.
We're thrilled to help bring the MLS to Cincy and all of the doors this will open for the people we know, love and care for each day in the city of Cincinnati and beyond. As our family expands, so too does our ability to share compassion, health, and high-quality care with all of those we serve, and we look forward to embarking on that journey with a team that shares our deep passion and excitement for making our home a better place.
Check Out the New Jersey! 
As FC Cincinnati's new jersey sponsor, we're also excited to give you a sneak peek of what that jersey could look like! A mockup of the new FCC jersey was unveiled during our press conference on Monday November 13, featuring Mercy Health's logo on the chest with a diamond pattern and MLS crest. You can see the mockup below. The jersey is for illustration purposes and does not represent an official MLS or USL jersey, and is not available for purchase.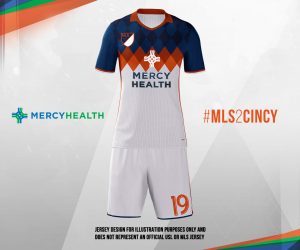 If you share our enthusiasm about our partnership and bringing the MLS to Cincinnati, join the conversation by using the hashtag #MLS2CINCY on social media. Let's bring MLS to the Queen City, together!