For physicians Kaitlin Law, DO, and Timothy Law, DO, practicing medicine is much more than treating the sick. It is about caring for an entire community.
This husband and wife duo have long had a passion for caring for those specifically in rural communities with limited access to health care. In fact, Dr. Timothy Law grew up watching his own father practicing family medicine.
"It was through watching his practice and working alongside him that led me to a passion for patient care and helping rural communities," he shares.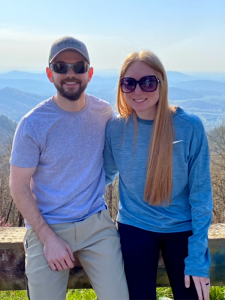 Dr. Kaitlin Law, who grew up in Alger, OH, was also inspired from a young age to care for others.
"I have always had an interest in biology and how the human body works," she shares. "Growing up in a rural, medically underserved area, I was able to see the disparities firsthand as it affected some of my close relatives."
While attending college, Dr. Kaitlin Law volunteered for the Physician's Free Clinic in Columbus, OH. There she shadowed osteopathic physicians from the area, further solidifying her love of medicine.
"One of the most challenging aspects of practicing medicine is trying to provide equal access to health care for all patients when health disparities are present," she shares.
After graduating from Ohio University Heritage College of Osteopathic Medicine in Athens, OH, the duo decided to stay in Athens to complete their residency in family medicine at OhioHealth O'Bleness. They were both drawn to the variety and scope of practice that family medicine offers. They feel it allows them to understand the whole person on a deeper level and truly become a part of their lives.
"Family medicine allows me to see patients of all ages and backgrounds with a diverse range of medical conditions," Dr. Kaitlin Law says. "Specifically, within family medicine, I have a huge interest in women's health and osteopathic manipulation, in addition to general family medicine."
Osteopathic manipulation allows the body to heal by using manipulation techniques for musculoskeletal dysfunction. This technique, which is utilized by both Dr. Kaitlin Law and Dr. Timothy Law, allows their patients to avoid taking additional drugs while the body uses its natural processes to heal.
As osteopathic physicians, both providers are dedicated to treating their patients as whole persons.
"Each patient is unique," Dr. Timothy Law states. "There is nothing more important in medicine today than the unique relationship between patient and provider. At my previous clinic, I had a patient that was unfortunately diagnosed with metastatic cancer and given only a few weeks to live. At their follow up appointment, I was able to spend almost an hour talking to them about their health, what lies ahead for them, their family and their passions in life. It made me realize that in medicine we get caught up in trying to fix everything and everybody, but sometimes our patients truly just need someone to talk to and be there for them."
Now, the Law family is excited to come back to Ada, OH, to start a new adventure practicing at Mercy Health – Defiance Hospital Family Medicine, Ada.
"Growing up locally in Hardin County, I knew that I wanted to return to practice medicine in my home community, which was made a possibility through Mercy Health," Dr. Kaitlin Law shares. "I can also say that I align with the core values and mission of this health system. I am most excited to give back to the community that I grew up in, as well as work alongside my husband, Dr. Tim Law. I am very appreciative to have the opportunity to return home and serve those in need."
Dr. Tim Law adds, "overall, I look forward to where this journey is going to take us, and I cannot wait to see where this next chapter in our lives leads. Doing something I love on a daily basis, growing in our community and being able to assist with the lives of our patients. Mercy Health has tremendous opportunity for growth, and I look forward to seeing where this journey takes myself and my family."
When they aren't practicing medicine, this duo is passionate about their faith, their family and their dog, Milo, while also sharing a love for the outdoors.
Looking for a family medicine provider of your own? Find a Mercy Health provider near you today.